Welcome to Metal Detector Reviews
This website is here to help you select the right metal detector, based on the experience of other people sharing their thoughts on different metal detectors that are on the market.
We appreciate all the support of those who have submitted their reviews and shared their honest opinions for others to read, and make a better decision on their next purchase. If you would like to suggest a new category, or a detector that is not listed, please e-mail us.
Latest Reviews
Garrett AT Gold
I never had a detector before. I love this machine. Took it out in back yard and found 7 coins in less than 30 min. dating from 1887 to 1983,...
RICHARD POWELL from TEXAS
Garrett ATX
I've had my atx for about a year now. I live by the mouth of the Columbia river and decided to do a test. Here we have 100 percent pure...
Mark Sholin from Long beach, WA
Minelab Sovereign XS-2a Pro
Had mine since 2001 and I am 33 years old. Machine still works perfectly after 1000s of uses and I ran it over with my truck. Broke the shaft but...
Bobo from Sinkhole rain WA
What types of metal detectors are there?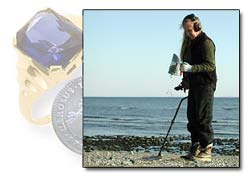 To make it simple to understand, we will separate all these different detectors into several groups:
General purpose
Beach/water/diving
Nugget hunting
There are more, but lets talk about these for now.


General purpose
Most metal detector manufacturers provide a large selection of general purpose detectors since it is the most popular type of detecting activity. You would use these to look for old coins and relics in public parks, schools, or on private land. Generally speaking, the higher the price, the deeper a particular machine will detect, and the more options are available to reject a certain unwanted metal that you are not interested in finding.
Of course, there are a huge variety of different models and manufacturers to choose from, and I could see a beginner scratching his head and wondering what to buy for his first detector. We'll provide a list of popular, time tested models down below, that will get you started on the right track.

Beach and Water
If you live near a public beach, and finding gold and silver jewelry is your idea of fun, consider buying a waterproof metal detector and a good quality scoop to get you some of that loot. With gold and silver prices at all time high, you should be able to pay off your purchase in no time. The older and the bigger the beach, the more chances you will have at finding jewelry.
In my personal experiance, the majority of lost jewelry is in the water not on dry sand, so a waterproof detector is a must.

All Underwater Detectors
Gold Prospecting
Of course, if you live in an area where gold was found in its natural form, it's wise to buy yourself a detector specificly designed to locate small nuggets. The general purpose detectors will locate bigger size nuggets, but those are far and few between these days, but lots of small nuggets is a whole lot better than none. These specialty detectors are not cheap, but you get what you pay for. It may not be a bad idea to meet some local detectorists in your area and learn what detectors they use before parting with your hard earned cash. The soil conditions could be a problem for some metal detectors, so do some research or consider joining a local club first.

All Gold Detectors
All in One Metal Detectors
Some people can only afford one detector, but live in an area or occasionally travel to do some beach or nugget shooting, and dont want to invest in several different models. Is there such a beast you ask? Well, yes, though the choices are very limited at this time, I will list a few multi-purpose machines here, but in my personal opinion, I would rather buy a detector that was made to do one type of hunting and do it well. But that is only my opinion, you don't have to agree with me. Regardless, here are some models to consider:
Garrett Infinium LS
- $1000, thats about it for all-in-one really, there are several dual purpose that combine relic and nugget hunting, or was originally designed as a nugget hunting detector, but turned out to be an exceptional relic detector as well.
Whites MXT Tracker
-$800,
Tesoro Lobo SuperTRAQ
-$700,
Deep Seeking Detectors
There are certain detectors that are designed to go several feet and detect large objects, such as a chest of pirate gold coins or maybe an old sewage pipe (more likely), but if you are looking for a known cache, it might just be what you need to get to it. There isn't a whole lot to choose from, so just head on
over here
.

Recommended Beginner Detectors
Low budget
If you're just thinking about buying your first metal detector and unsure where to start, here are the most popular and affordable beginner metal detectors.
GarrettAce 250
$230,
Whites Prizm II
$250,
Tesoro Compadre
$200,
Tesoro Silver uMax
$250,
Bounty Hunter Tracker IV
$160. Despite the low price these will find gold, silver and a variety of coins.
High budget For beginners with unlimited budget who are not afraid of electronic gagetry, and must have the best detector for his money. Minelab E-TRAC - $1500, Whites Spectra V3 - $1500, Teknetics T2 - $800,
Waterproof Metal Detectors
To make it simple, there are two basic categories of underwater detectors: A VLF - that can discriminate against iron and unwanted junk, and a
Pulse Induction
or PI - that can detect deeper then a VLF, but you'll be digging every nail and bottlecap without knowing it. Here are a few examples -
VLF
:
Minelab Excalibur II
$1200,
Fisher CZ 21
$1000
- PI
:
Whites Surf PI Dual Field
- $900,
Headhunter Pulse
- $700
There are many different detectors, some are more complicated than others. The basic ones are easy to get used to, with less features and buttons. Turn it on and off you go! You can't get around practice though, and the more complicated the detector, the more practice you will need. Which is the best detector? What is the best gold detector? Read some of the user reviews to find out.
What Our Visitors Say
Hey Y'all, I just wanted to say "Thank you" for a great web site. I decided a couple of months ago that I would buy a metal detector and start my second career as a gold prospector. Knowing absolutely nothing about metal detectors, I began my search for "the" machine. Well, imagine my dismay when I discovered that there are literally hundreds of different kinds (models) of detectors! The more I searched, the more confused I became and then - EUREKA!! - I stumbled across your web site and was able to read honest reviews from folks who are actually using these machines in the field. Everything I needed to make an informed decision is right here in one place! My search is over, all the research is done and now I can start my search for where to buy my detector. And then I can start my search for GOLD!! Again, thanks for a really great web site!
Victor H.
---
I just bought a Minelab Euerka Gold. I made good use of ' m.d. Reviews' a real blessing for us newbees. Thank you very much for making it available to all. It is much appreciated.
Ron
---
I love your site!! I'm a metal detecting addict and I'm always looking for good MD sites. Your site is one of the better ones I've found! Keep up the great work. I only wish your site had been around several years ago when I was getting started in the metal detecting hobby. It would have cut my research time in half.
Jim Fite
Atlanta, GA
---
Review of "Metal Detector Reviews.net"
Metal Detector Reviews.net is something that makes Internet a great place.

I would like to say thanks to all of you in the name of all detectorists. Well done Metal Detector Reviews.net Keep on this way It will be Fantastic if you add to this place a forum, chat or something like this.
Oscar
Your suggestions on how we can improve our site are always welcome. We are always happy to hear from you, feel free to contact us at any time!