Home
>
Reviews
>
Minelab
>
Minelab Explorer II
Minelab Explorer II Tips
Number of Tips:
3
Submit a helpful tip
Submit a new review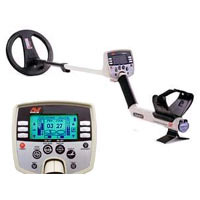 Iffy signals
Apr 14, 2015
If you get an iffy high signal in ferrous tones, to establish whether it's just a deep rusty nail try this. Over the strongest 2 way signal point press pinpoint. If it doesn't pinpoint where you think it should but does a few inches away it's iron. If it pinpoints exactly where you got the original 2 way signal dig it.
Bob J from UK
Was this helpful?

Explorer2
Mar 22, 2015
I often read websites that offer the merits and demerits of a whole host of detectors. I started detecting in the early 80's and have had a number of machines - including the Arado - an all British machine that made its mark in the hobby. Had all the usual CScopes, Garretts etc etc. Really they will ALL find targets if they are in the ground. Its all about luck really - not the merits or demerits of a particular Detector.
It isnt down to money either - clearly a more expensive detector should be a better build - But at the end of the day - if it's not in the ground - The best detector on Earth won't find it. I stick with my old Explorer 11 - it still pulls decent Hammies out of the ground - The one accessory I would recommend is a Propointer - Garrett is probably the best - Expensive, but you only get what you pay for!
David from Wiltshire
Was this helpful?

Pin pointing isnt hard at all
Feb 12, 2015
Take the explorer and pin point the highest pitch... Pull the detector towards you slowly. When you don't hear the sound dig at the tip of the coil. I've done this with the explores and the ctx3030.
MARCUS Vickers from Baton rouge
Was this helpful?

---