Home
>
Reviews
>
Teknetics
>
Teknetics G2
Teknetics G2 Tips
Number of Tips:
3
Submit a helpful tip
Submit a new review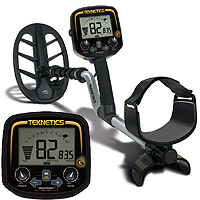 Learn it before slagging it
Aug 09, 2016
People need to spend a lot more time learning their detector inside out rather than having them 5 minutes and then expecting them to perform miracles. I have a G2+ and it misses nothing.
Pete from Uk
Was this helpful?

There are bigger after market coils available
Oct 28, 2013
Try a 13" or 15" after market coil on it. I have found more American Civil War buttons with this set up than ever. Very little EMI which is a great thing around power lines. Depth is way above par. It's my go to machine now. It's my secret that I'm letting slip.
Digger70pa from Cumberland Valley
Was this helpful?

Teknetics g2 depth
Oct 06, 2013
Mine air tests 10" on dime. It is very important for best depth in ground to ground balance accurately. Unless it is defective, it will go deeper than an Ace 250 by more than just a little.
George (mn) from Twin Cities, Mn
Was this helpful?

---