Tesoro Conquistador uMAX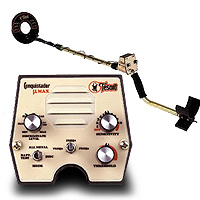 Price:
$350
Avg. Score:

4.6
Based on
5
reviews
---

Super stable, accurate GB.
May 05, 2012
I own Whites V3i (4x more expensive) but I prefer bring my Tesoro with me during leisure hunting. Its lightweight, can use it for hours without having any problem with my muscle.

It is stable. It works in any soil condition, land, sea, river with current, pool. Super accurate ground balance. Just turn the power knob ON, then you go. I love the simplicity.

Not as deep compared to Whites V3i - but it is not fair comparison. Pretty sure it will beat all yellow Garrett entry level for the price tag.
Overall Rating



Ahmad from Malaysia

222

Easy to Use Lacking in Depth
December 30, 2011
Nice lightweight machine. I had it for 10 years. My previous Machine was a Whites 6000 DI Pro. I like the machine, but it is lacking in depth. When looking for relics there is often 10+ inches of pine straw on the ground. It's a great coin machine, but useless in the woods looking for relics.

Great for coin hunting in parks and is easy to use with no learning curve.
Overall Rating



Joe Worthington from Canton Georgia

157

Good so far!
December 27, 2008
Just got my Conquistador a few weeks ago. Purchased off ebay. So far I am very impressed with it. My first Tesoro. Goes very deep. Don't really like the all-metal pinpoint, I do better just moving very slow in discriminate mode. Very simple to use, and lightweight. Was shocked at how small the box is on it. Can see that someone looking for Civil war relics would love this machine.
Overall Rating



Rebecca from Texas

244

Great little grab and go detector
April 04, 2006
The Conquistador uMax is one of Tesoros 2001'ish line of detectors. It was replaced by the Cibola a year or two ago. That DOES NOT make this a detector to avoid, quite the opposite! I have used it in the park, school yards, and in the woods & fields with great success.

This is the little detector that can! It's not the deepest digging dog in the yard, but makes for some nice finds. It's a very forgiving detector on sweep speed. The discrimination works great and it ignores iron as well as any detector ABOVE it's class, running very quiet in bad or trashy dirt. The frequency shifter is a nice item to have around power lines or other detectors. The Conquistador has an all-metal mode that can also be used for pin-pointing or close target separation. Pin-poining on it is as with other modern Tesoros, a snap.

My son loves it more than his Ace 250, and uses it more and more now. I will end this by saying, it's a real detector for a little money. Get one today new or used.
Overall Rating



Scott Beasley from South Carolina

414

Metalman
April 27, 2005
All I can say is that this is one great machine!! I bought it for the hunts that I do with my local treasure club because I was really beating up my minelab and wanted a machine that was lighter with the frequency shift toggle so I could have less interference from other machines. Well to make a long story short, the machine did great at the hunts. However one must practice at your local park to gain the nessasary exsperience needed to participate in a compitition hunt. Well I had heard that Tesoro had some really great discrimination, and could really ferret coins out of trashy areas. This is no bull, I love the light feel and continue to pull old coins out of parks with it to this day. No it doesn't go as deep as my minelab but I have found coins at a respectable 10''. Not bad by anyones standards, and indeed a very fast machine.

Keep hunting!!
Overall Rating



Mike Allread from Spokane Wa

857

---