Minelab X-Terra 50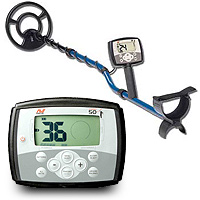 Price:
$650
Avg. Score:

4.14
Based on
21
reviews
Avg. Durability:

5.00
Avg. Ease of use:

4.50

---

X-terra 50, coinshooter
May 26, 2016
When I owned this machine it turned out to be one of the best mid level detectors I've owned. Even though it's been years since I owned one I still consider it a coin king. I found 100 coins in a short morning hunt. If I had stayed I could easily got more. If you're looking for a used detector that is worthy then pick up a 50 and enjoy.


Max Depth: 8 inches on US quarter
Overall Rating


Durability


Ease of Use


Would you recommend this to a new user? Yes, absolutely!
Terry from Texas

20

More and more coins
December 10, 2014
The x terra 50 is a great machine! I have found at least 500 coins. People who say its not good are wrong. This machine will keep up higher end machines.


Max Depth: 10 inches on US quarter
Overall Rating


Durability


Ease of Use


Would you recommend this to a new user? Yes, absolutely!
Steve Coin Master from Penn.

10

X-terra 50
December 21, 2011
I have had a X-terra 50 for four years and have had fantastic results with it.
I would only part with it if I was upgrading to the x-terra 705.
Overall Rating



Ernie from Essex

95

Top Notch Detector!
July 08, 2011
I have been using the Xterra 50 for a while now and am totally impressed with it. I have found numerous coins as far down as 10 inches with ease.

The majority of the time the numbers are right on as far as identifying the coin.
The pinpointing feature is excellent. You can count on the coin or other object being in the center of the inner circle of the probe.
My previous detector was a Bounty Hunter Pioneer 505 and there is just no comparison.
Always make sure you have your ground balancing set properly for maximum depth. If you are getting alot of chirping or mixed tones try turning down the sensitivity. I usually have it set at about 12 unless the soil is heavily mineralized. This is basically the same detector as the 505.

I recommend this detector to anyone looking to go to the next level from their beginner detector.
Overall Rating



Anthony P from Rhode Island, USA

122

X-terra 50
August 10, 2010
Excellent machine, lightweight and superb at finding hammered silver coins. Been using it for 2 years and although bought second hand have had months of fun with it on u.k. farmland. Have picked up Celtic gold coin at 8" deep and roman coins at 6" plus. All in all the best machine I haver ever had.
Overall Rating



Robert lee from Suffolk, u.k.

211

Great Detector for the money and very light
November 10, 2009
Well I picked up the Xterra 50 on sale great price 299.00. It hits quarters like a beast. I don't think I've ever had a detector that hit quarters as much as this one. They usually read at 45 contrary to what many have written here as 42.

On Dimes it usually reads at 42 or 36. Pennys 36 and acasionally at 45. Nickels hit at around 12 but haven't found any yet because I've only used it 3 days. Now I have hit many pull tabs and they hit at like around 15 to 45 depending on the depth. So far I've found one wheat penny one small silver chane and one armitron watch and a boat load of quarters and some dimes. I think the xterra 50 is a nice machine especially for 299.00
Overall Rating



Jo from La Ca

150

Xterra 50
July 17, 2009
I have used the Xterra 50 for two summers at the beaches near Atlantic City, NJ. The Xterra 50 is light, the batteries last a long time, and it has good depth.
I have had better luck with the high frequency coil, it seems to transition better from dry to wet sand. I do get some false signals occasionally where the wet and dry sand meet.
I would reccomend a control box cover for sandy areas, as the sand will wear down the buttons on the control panel. Minelabs replaced my control panel under warranty.
I think it is a great machine for the price!
Overall Rating



Dave from New Jersey

101

The Best Terra for the Bucks!
June 01, 2008
I've had a ton of detectors since I started in 1982 but the X Terra 50 is a great unit. Like all detectors it takes a bit of time to get used to but when you do it'll soon be one of your favorites. And if it's your only detector be proud that you made a smart choice.
Remember to READ the manual and to UNDERSTAND what the manual is telling you. And if you run into a problem with it's wording go to a FORUM and ask some questions. Don't worry about sounding stupid cause the only stupid question is the one that wasn't asked.
I give 5 stars because it's a 5 star detector for these reasons.
1. Light and easy to swing.
2. Great Tones.
3. Great Display
4. Super EZ Pinpoint
5. Great ID.
6. Low battery use.
7. Super Ground Balance.
8. Quality Built-Solid.

I could find more good points but now for the BAD.
1. Absolutely nothing!
So if you read a 1 or 2 star rating and you want to beleave them it's your choice. But the people who have to whine about this fine unit haven't took the time to understand what they've read.
There isn't a PERFECT detector and there may not ever make one.But if your ready for a Great Detector, give the X-Terra 50 a swing!
And don't forget to try out the different coils too!
Overall Rating



J.Simon from Norhtern Wisconsin

564

Great Detector
May 20, 2008
I bought an X-Terra 50 when I caught the detecting bug. I love this detector. Very easy to use. The ID display is a godsend, accurately displaying what lay under the ground. You soon get to learn what each number can be as it is so consistent.

The depth display is very accurate from my experience. I found a tiny silver button at about 10" in woodland. I think I'd get fed up digging if I had to dig much deeper than that! On wet sand I also had no problems, finding items upto 12" deep.

If the ID can't make up it's mind it will constantly change numbers with each pass over the object. This invariably means the item is trash. The item accept/reject is also great. It lets you reject any metal type just by waving it over the object and pushing a single button. This can easily be removed and be accepted again if you change your mind.

All user settings, including user added rejects are kept after power off, so the detector is ready to use again quickly with the previous settings.

Solid lock on is unmistakable with a single ID displayed and a clear sounding signal. Deeper objects are fainter giving another indication to the depth of an object.

If you're not sure which detector to buy, I can wholeheartedly recommend this model. I'm really glad I chose mine!

Overall Rating



Nick Dawkins from UK

330

I am stuck
March 15, 2008
The X-Terra 50 is a penny killer, readings that are to be dimes and quarters are usually pennies. The depth was not accurate at all. I would compare this detector to a cheap detector you would purchase at Radio Shack, This was my first Minelab and will be my last. They pumped up this metal detector for sales when it came out and they got me, this time. Very poor detector!
Overall Rating



Jerry from IA

1580

---