Fisher F4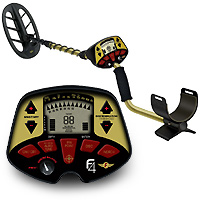 Price:
$500
Avg. Score:

3.95
Based on
20
reviews
Avg. Durability:

4.00
Avg. Ease of use:

4.33

---

Maybe it is the user and not the machine.
August 21, 2018
It is very hard to fault this machine in anyway. Maybe those who have knocked it? Have an hidden agenda.


Max Depth: 10 inches on US quarter
Overall Rating


Durability


Ease of Use


Would you recommend this to a new user? Yes, absolutely!
T Mac from England

10

Nifty fisher f4 metal detector!
October 07, 2015
1) Fisher included two coils with this detector - An 11" double-D and an 8" concentric!
2) Extremely light weight, perfect balance without movement or flex in the shaft - even during "vigorous" swinging!
3) User friendly, easy to use - a light press with your right thumb brings the F4 to life!
4) Sharp and clear LCD display, with centrally located conductivity ID number, and along the top is an arc of various common targets, ranging from iron to $1 - and all the buttons are logically placed and clearly marked!
5) Identification is quick and easy with its LCD "arrow" that points to the detected target!


Max Depth: 11 inches on US quarter
Overall Rating


Durability


Ease of Use


Would you recommend this to a new user? Yes, absolutely!
Kay Ehm from Bend, OR

69

F4 depth
February 25, 2015
It's deeper than 2-3 inches, as the chart shows... I have found quarters at 9".


Max Depth: 9 inches on US quarter
Overall Rating


Durability


Ease of Use


Would you recommend this to a new user? Yes, absolutely!
JimboJones from Oregon

43

F4 aka 3300
June 15, 2014
If you want an f4 save your money and get the 3300 the same unit that shares all the same search coils and the circuits are the same that's why they got pulled off the self as recalls from other people finding out they were getting ripped off.
I took both units apart and put them back together. Then I compared them side by side in my test bed without a doubt the f4 is truly the 3300. A quarter at 3 inches on either unit with the same coil size for size. Nice try Bounty fisher dealer. I will stick with my old nautilus2b out those old coins that bounty fishers leave behind.


Max Depth: 3 inches on US quarter
Overall Rating


Durability


Ease of Use


Would you recommend this to a new user? Yes, absolutely!
Bobby from Bristol Tennessee

912

F4 is not a bh 3300
August 18, 2013
Just tried out my new Fisher F4 at the beach this weekend. It is easy to setup and the DD coil is awesome. I also got the 10in and 4in coils. Man the F4 is not a BH 3300. Glad I paid the little extra cash to get one. I was using my BH 3300 will be selling it soon. Oldwolf
Overall Rating


Durability


Ease of Use


Would you recommend this to a new user? Yes, absolutely!
Oldwolf from Olympia

156

No go for me
June 16, 2013
I tried one and got tons of erratic false signals. It would chirp even if not over the ground, or on clean ground, even when ground balanced or lowered sensitivity.
I reduced sensitivity until it was extremely low, and only then would it stop constant chatter. Then, it would only go 3 inches deep with the 12" coil. I had a bad experience with this, and don't like the 2 nine volt batteries instead of 4 AA's like ACE Garretts, or 1 nine volt, like Tesoros.

Also, I know the ground balance is only one turn possible, and should be more like 3 or more, like quality detectors because I had a hard time fine tuning the ground balance. You really need more than one. That is cheaping out by First Texas/Fisher company. It's like they tried to put it on to satisfy people, but couldn't spend the $5 more it would have cost for a better potentiometer!

Sorry, I tried to like it! There is a reason these aren't more popular. I would rather try an F2 than this because the G.B. Didn't work too well on the F4 so why pay for it, plus the coil on the F4 got a lot of falsing and is 12" DD and didn't go deep at all for me, and the 8" on the F2 should go deeper with less chatter. The F2 is way cheaper and way more popular. Skip the F4, and go for an F2 or F5 or higher, or completely different brand.

Also, Fisher is owned by First Texas, which makes Teknetics, and I had a new 12" DD coil on a Teknetics go bad when put into water. It's supposed to be water proof, but I spoke with an employee and found out leakage has been a problem on the 12" DD coils. Mine leaked. If you don't believe me, why would I make this up? I sent mine back and got a replacement by using an employees name, and First Texas wants to keep it quiet and not have to do a recall.


Max Depth: 3 inches on US quarter
Overall Rating


Durability


Ease of Use


Would you recommend this to a new user? No, not really.
Tom from Minnesota

918

Fisher F4
April 17, 2012
I have had my Fisher F4 since February 2011 and I have been metal detecting for over 30 years. I have owned many detectors including several Minelbabs, Tesoros, Whites, and Garrett's. I have now had 3 Fishers, a 960D in the 1970's with the 'walking stick' type shaft, an ID Edge and now the F4.
As I had owned the ID Edge for several years I decided to upgrade to the F4, big mistake. The ID Edge with the 10 ½ inch coil gives really awesome depth, but that's another story.

The F4 is fairly well balanced and although it's not heavy it's not as light as I would have hoped. It has a nice display screen but as usual in the UK the American decals are pretty useless, you need to look at the id number to get an idea of the target. The 'Cu' copper icon is accurate on copper coins. Depth indicator is fairly accurate. I found the pinpointing took a bit of getting used to as it seems to fall between the centre of the coil and the coil bolt.

The land where I detect on is in the Midlands area of the UK, its fairly neutral soil and I can usually turn the sensitivity up to maximum without any falsing. Working near power cables can cause the detector to go haywire at times but reducing the sensitivity usually cures this.

If you are detecting with an i-phone or smart-phone in your pocket it can be prone to sound off occasionally with rapid bleeps. I have used this detector on several Channel 4 'Time Team' digs and it can get interference from the film crew 'walkie-talkies' nearby.

This detector operates in 'all metal discrim' and as such you need to ground balance it as you will get more depth. I have a test bed in my garden and the Fisher F4 will pick up a Georgian half penny lying flat in the ground at 10 inches. If it's not ground balanced this is reduced to about 7 inches. I could go on about all the finds I have made with the F4 but as with any detector you have to walk over this stuff in the fist place. However, I recently dug a small bronze Roman 'grot' coin from over 10 inches in pasture land, I was really surprised!

When you turn the F4 off you lose all your settings and it reverts back to the factory preset when turned on again, no big problem as its simple to set up.
Pro's, Easy to set up and use.
Fairly light and reasonably well balanced.
DD coil better on wet sand than a concentric coil.
Quite good depth for a mid-range detector.
Con's, Coil shaft bolt comes unscrewed, falls off and gets lost. I ordered a new one which I had squash the threads with a pair of pliers to make it tighter so that it didn't happen again.
Now and again the screen freezes and just like a computer I have to switch it off and back on again.
Overall Rating



Jeremy Daw from England

346

Mister
December 03, 2011
Hi this is my second review on the f4.been doing very well 7 more silver sixpences, silver st christopher large one artillrey cap badge first world war plus the usual copper old pennys half pennys a farthing plus decimal coinage upto £28.but I've been having trouble ground balancing and using in all metal with the threshold.

I was getting a lot of chattering even if I turned down the sens. So I bought a suppressor 5mm from maplin. What a difference I ground balance spot on the manual way I balance till it goes quiet then go back a touch so I can just hear it.
It works great mess with sens threshold to my liking. Its like a different machine and improved the depth as well believe it or not I had two good repeatable signals couldn't find anything on the third repeatable I just kept digging 15 inches a 20p came out I couldn't beleave it I was just not digging deep enough. Usually it tells the truth on the depth.

Anyway, if your having problems like mine buy a wiggit suppressor 5mm £2.19 fantastic. Im so pleased with this machine. I'm saving up to get an f70 a bit more power but I'm still keeping the f4.
I've had all top end machines they don't come anywhere near this baby. My wifes sick of hearing me going on about it anyway I wont bore you any longer good hunting mick.
p.s. fit the suppressor as close to the box as possible.
Overall Rating



Mick from Blackburn

248

FISHER F4
November 17, 2011
Hi, I've had the f4 2 weeks now. What a machine gold ring silver bodge threesilver sixpences 1 silver florin edward pennys 6 poundscoins 12 plus change roman? Celtic metal ring. What can I say I've had all the machines this is an allrounder.

I bought it second hand for £240 with headphones extra coil and spade. Get the ground balance right and theres no end to what this machines will find. My first fisher will certainly be upgrade to another fisher but I will be keeping the f4. Well done fisher.
Overall Rating



MICK from BLACKBURN UK

155

Good Beginner, has a few flaws
June 05, 2011
Three Stars for this detector. Its defiantly a great beginner machine. Pinpointing is dead accurate, and the machines ability to classify metal is 89% accurate. Very light, well balanced, and is user friendly.

I didn't notice an oversensitivity to power lines or power boxes which was nice..I've detected with it around those big green power boxes without any interference.
Usually any interference due to powerlines is controllable using the sensitivity settings.

I think the deepest I have ever pulled a coin out of the ground has been 7 inches.
Fisher customer service is very fast to respond. I've also been told this machine will beach hunt, as long as the sensitivity is adjusted correctly.

Now for the cons....the reflective screen will melt your corneas you when the sun shines down on it. It Cannot tell the difference between bottle caps and quarters. If your in a high bottle cap area, you might as well leave. The padding to the grip is very cheap, mine came loose and moves up and down the rod.

Fisher's warranty would be nice, if I hadn't lost the receipt...stinks that the receipt is the only way to get warranty work done on it. Fisher says it will memorize your notch settings for the next time you use it, but mine never did. Oh, and be prepared to use 9V batteries like no other, they only last for about 10 hours tops.( but to be fair, I never ran batteries until they were fully dead because I didn't want to reduce performance.)

Overall three stars because it is a good machine, it just has a few small PITA problems.
Overall Rating



MedicManiac from Oregon

299

---