Teknetics G2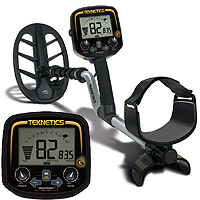 Price:
$750
Avg. Score:

4.33
Based on
6
reviews
Avg. Durability:

4.00
Avg. Ease of use:

4.00

---

Teknetics g2+, a top notch machine
September 15, 2017
After using about every modern detector that is available I found G2+ is one of the most effective VLF machines on the market today. It's cousins, the Fisher Gold Bug and all of its versions, all fall in the same category. Though the Fisher F19 and the Teknetics G2+ are the only ones in the family that have a back lit screens, all of them work exceptionally well in extremely mineralized soil and even in wet beach sand. That is very rare for most VLF single frequency detectors to be able to work in salt conditions. The only other single frequency VLF that I have used they can handle salt conditions is the Tesoro Lobo ST, but loses depth when compensating for this extreme condition.

Were I to have but one detector, I would select the Teknetics G2+ or the Fisher F-19 as that machine. These machines can provide ground conditions like few others. Both can utilize all metal modes and discrimination extremely well with a wide variety of controlled and/or notched setting. The biggest plus that I have found with this unit is the comfort and position of the handle, not just an S-Rod, but positioned for comfort with many hours of detecting in mind, the back lighting is really cool for night hunting too.


Max Depth: 7 inches on US quarter
Overall Rating


Durability


Ease of Use


Would you recommend this to a new user? No, not really.
Mick from San Francisco, Ca

232

G2 is awesome
April 04, 2015
The G2 is a really good machine. It's capability to find good targets in a high trash area with the 11" coil, it's a coin and jewelry finding machine. My first time out with it, I found a tungsten ring and coins amongst lost of trash. Having the co break at 50 helped eliminate a lot trash and located the good mixed in.
Overall Rating


Durability


Ease of Use


Would you recommend this to a new user? Yes, absolutely!
Jeff from Sacramento, CA

401

G2 Cleans Up What Others Have Left Behind
June 14, 2012
This detector is not only a Gold Nugget machine but it will literally find coins and jewelry that have been overlooked by other detectors due to heavy concentrations of buried iron objects, nails, barb wire, etc. This is one of the best detectors you will currently find.

My most recent hunt with the G2 nailed me a nice silver men's ring, a buffalo nickel, and a pile of clad coins. This was from my neighbors yard which I have hunted before with many other detectors including a Minelab E-Trac. All these coins and the ring were at 8 plus inches depth and this is no lie. You will need to ground balance and then hunt slowly with the iron disc set no higher than 30 which is the bottom of the gold range so you won't miss any potential jewelry. Although you will still hear the low tones all the way down to iron. This is essentially a two tone detector with very simplistic controls which actually makes this a pleasure to use.

The depth is above average and the target VDI display is quite large, easy to read, and is also the most accurate I have seen to date. Nickels will ring in at 58 and copper/silver coins will ring in above 80 or so. The scale is from 0 to 100. There are no target icons just the scale which is fine with me as you will simply memorize what the VID scale corresponds to. This makes it feel like more of a professional detector. I find the icons on some detectors like my Fisher F75 to be kind of hokey.

I find the build quality to be on par with most other detectors. The control box will move slightly if bumped but this is intentional so it is somewhat shock resistant.

All-in-all this is one of the best detectors on the market right now and is a blast to use. I am quite happy with my decision to buy one. I got mine used on e-bay at a considerable savings.
Overall Rating



Lloyd Stephens from Farmington Hills, MI

690

BH Tracker IV on steroids
May 22, 2012
My first MD was a Bounty Hunter tracker IV. I did well with this machine but quickly realized I had to upgrade. I chose the G2 due to it similar operation as a BHT4. Start up, ground balance and discrimination are a breeze to get through. My finds jumped ten fold. I have found things in ground already covered by fellow MD'ers that same day. A great machine and well worth the price. It truly is a BHT4 on steroids.

Look my finds up on www. treasurenet. com and www. wedigdixieforums. com under the name of Papa Bear.
Overall Rating



Papa Bear from North Carolina

3821

G2 great detector
December 29, 2011
I been detecting for 30 years plus, used most detectors from low to high end, my main detector for field hunting was the T2, my back up detector was the G2. I took the time to learn the G2 well, working iron infested areas with great success finding old silver coins and some nice gold rings.
I find it to be a great detector in the trashiest of ground, working slowly and becoming familiar with its sounds and target ID. Is the KEY. There are detectors that go deeper, there are detectors that are built better, and there are detectors that have a great deal more electronics but, here's the facts, few if any metal detectors, are lighter, easier to set up, go's deeper on gold or silver coins with good discrimination, for around $700 dollars than G2.

If you take the time to learn it, you can compete with a lot high end detectors, when I get a good signal in iron infested ground I call my detector friends to scan there search coil with there $1500 dollar detectors over the target area and ask them what do you think? Lots of times they will say IRON !!!
I dig it sometimes there right but, many time there wrong. The other day I pulled a barber dime they checked, Iron they said, "wrong", later in the hunt a V nickel, after they checked, "Iron" wrong again, a three cent piece, three mercury dimes and silver halve dollar to which a $1500 detector didn't pick-up because it was on edge and in old cinder or coal dump area, so here's the deal, I know this isn't the best detector money can buy but, for me the G2 is-NOW- The first detector I grab on my field hunts, my love for this detector will only last as long as it produces, but for now coming from a treasure hunter who used a lot of detectors, I can't argue with success, for me the G2 is a keeper.
I make no recommendations, I'm just telling you my story. Thank you!
Overall Rating



Fair man from Eastern US

7213

Retired
November 03, 2011
Well, after deciding to get one after all the good reviews as well as on u tube, it could be a lot better its better in all metal and look at the scale not the numbers as in all metal its of no use at all. In dicrim its shallow and tones are not good. Spent 3 hours in a forest and found lots of empty 303 and 7.62 used blanks. One penny and one half penny. Went into all metal and straight away found (8 inch deep) ww1 cap badge, tank regiment I think.
Al ain all its not value for money, and build quality poor. Would expect high street price around 175 quid. On par with treasure ace 250 on a good day. At least you know with the ace what it is. Once a hight street name does a good product once and it sells every one wants one.
I will give it 3 out of 10 for performance. And that it, no more no less.
Overall Rating



PATRICK BROWN from WORKSOP NOTTS UK

32142

---