Tesoro Toltec II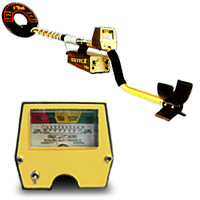 Price:
$599
Avg. Score:

5
Based on
2
reviews
Avg. Durability:

4.00
Avg. Ease of use:

5.00

---

Oldie but goodie, runs with the big machines!
January 14, 2018
This is still a machine that will and still can keep up with any newer machine. As many machines out there taking the time to learn the language the machine is telling the user, it will find greatness. I've found clad and Jewelry at 6-7"s I purchased this machine used in 2017, everything works great and is sensitive to the smallest gold jewelry.


Max Depth: 7 inches on US quarter
Overall Rating


Durability


Ease of Use


Would you recommend this to a new user? Yes, absolutely!
Diggin Texas from Garland

10

Toltec II is Awesome
June 14, 2012
This older generation Tesoro analog detector is great. It has solid on ID and goes deep. The backlit meter really works great for low light or night time hunting. The control box is hip mountable and of course it has Tesoro's legendary discrimination. The target tone is pleasant sounding. I highly recommend you try this detector

if you like analog, need backlight, or like hip mount / pole mount options. These can usually be purchased from $150 - $300 used (if you can find one for sale). Best Wishes and Happy Hunting.
Overall Rating



Tony from Oklahoma

203

---