Tesoro Outlaw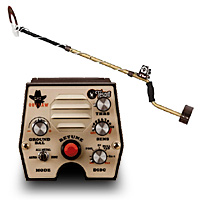 Price:
$650
Avg. Score:

5
Based on
6
reviews
Avg. Durability:

4.75
Avg. Ease of use:

4.50

---

4 gold rings
July 09, 2019
Suplement off gold first time out. After one year of juse The total score off 4 gold ring 2018 with tesoro outlaw . In all my years of metal detecting that never happend. Zilver yes tons of it gold 1 or 2 per year I'm a tesoro fan for live.
Overall Rating


Durability


Ease of Use


Would you recommend this to a new user? Yes, absolutely!
Pieter from Amsterdam / Holland

30

Gold first time out
May 09, 2018
My first morning going out to à local play ground with my tesoro. To learn te machine there is almost no trash there. And complete coverd with sand Learning to properly ground balance. Still learning that. A start to swing 10 min later the detector give a Nice tone I dig the signal a nice what I think is silver ring comes out. At home I take a closer look its a white gold wedding band with a small diamond. Just luck I know. But still the machine payed for 50 percent for its self with in 10 min.
PS take your time learn the machine. PS I am not a new at this hobby 8 years so far and still loving Every min out there.
Overall Rating


Durability


Ease of Use


Would you recommend this to a new user? Yes, absolutely!
Pieter from Amsterdam.holland

40

Wonderful metal detector
May 08, 2016
This is my third Tesoro metal detector. What a deal! Came with 3 coils. It goes deep and is easy to use. Depending on the soil, it can hit on a 8" to 12" quarter if you super tune the machine. Like my other Tesoros it has a lifetime warranty. I cannot justify purchasing an expensive machine and only have a 2 to 3 year warranty. My other Tesoro's are as good as the day I purchased them. One is over 12 years old and still going strong. Recently, I purchased a digital machine. It stopped working after 7 weeks of use. You will miss a lot of good items if you depend on the numbers. I'll stick with a Beep and Dig Tesoro. Great Machine!


Max Depth: 12 inches on US quarter
Overall Rating


Durability


Ease of Use


Would you recommend this to a new user? Yes, absolutely!
Jim from Spokane from Spokane

183

Love the outlaw
October 12, 2015
I have owned the outlaw for about a month know. I have owned The Tesoro Tejon, Silver uMax, Garret AT Pro, and a Little Minelab Go-Find 60. Out of all of them the outlaw is Number 1. I have found a Quarter at 11 inches with ease. My best find to date with it is a 1803 Large Cent, at 10 inches and it range in loud and clear. Love the Machine great at Discriminating nails and pull tabs. Thanks Tesoro!


Max Depth: 11 inches on US quarter
Overall Rating


Durability


Ease of Use


Would you recommend this to a new user? Yes, absolutely!
Josh from Iowa

285

A Versatile Power House
January 23, 2013
I feel very blessed to be able to own an Outlaw. I feel this detector could be a worthy successor for both my Silver Umax and Compadre. The single tone is pleasant to listen to and has the same smooth characteristics as the Silver on "good targets" and on small gold targets it sounds off just as well as the Compadre.

I really like the super pinpoint feature that narrows the signal to about a 3" radius so I just need a probe to hunt. Every one of the coils perform flawlessly, with the 8" being my favorite. The 12" x 10" wide scan goes deeper than I sometimes care to dig and it tends to like bottle caps but it's still a great tool.

I didn't care for the manual ground balance at first but once you get accustomed to it it's no big deal. The Outlaw is without a doubt the quietest detector I've ever used in areas infested with iron. One thing I learned is after pinpointing and recovery be sure to reset the detector by pushing the retune button. I want to thank Robert at Tesoro for recommending the Outlaw and his support of any questions I had. This is truly a go anywhere, do anything detector and I'm very happy with it.

A quick side note: These machines do their job very well and I've had enough success in a short amount of time. Enough that I found myself idolizing the hobby, then had to put everything in it's proper context. Please be careful to make time for what really matters.
Overall Rating



Jim from Minnesota

595

Love the outlaw
October 01, 2012
I've been using the Tesoro Outlaw for just over 3 weeks now and based on my location, I have been working hard to get as much search time in as possible before the snow starts flying. Let me make it clear that I have had minimal experience with a real MD though I have studied it for some time and have a good grip on the physics involved.

On arrival, the MD was very well packaged and much to my surprise, my dealer threw in a volume controlled set of headphones and a geologist's loupe. (Thanks Middlesex Detectors). Assembling everything was really easy and I thought the engineering that has gone into the device was extremely well though out. Each of the three coils came with it's own lower pole assembly and velcro strap to keep the cables in place when you are not using them. Battery included was a nice touch as well. The manual recommends using the velcro on your detector shaft and indeed, there are three straps to accommodate each disc. All told I had all the coils ready to go and the main detector assembly in place within 20 minutes.

Prior to receiving the detector, I created a test bed in my backyard with clad, silver, copper coins as well as aluminum tabs and some assorted junk materials I've been collecting for some time. So far I have only worked with the 8" coil and I love it. This thing really likes silver and I was able to detect buried silver coins down to about 9" in disc mode. All metal mode gives me an extra 1. 5", in my soil conditions which seems to be relatively non-mineralized.

I don't have a pin-pointer yet (hello Garrett PP, coming soon) so I have been relying on the MD for everything. To date I have been relying on a single location not too far from my home that has a lot of junk but also a lot of coins. In the summer it is rarely used but in the winter it is filled with hundreds of kids and their parents all sledding down this hill. No one seems to use velcro pockets because I have I have found close to $30 in coins in the last 21 days. The deepest coins have been around 6".

It only takes a little while to get to recognize the sounds associated with coins and keeping my thumb on the disc mode while scanning gives me a pretty tight understanding of what kind of a coin to expect. There is a double beep with coins that are close to the surface which is a big help.

I am still learning to master the sensitivity, threshold and disc settings but so far this unit has completely exceeded my expectations. Next up will be to start testing the big DD coil.
Overall Rating



Tee1up from Saskatoon

6819

---