Tesoro Golden uMax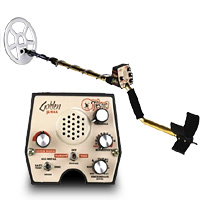 Price:
$500
Avg. Score:

4.25
Based on
12
reviews
Avg. Durability:

4.00
Avg. Ease of use:

3.00

---

Tesoro golden umax
July 06, 2013
The Golden is best used for trashy parks and beaches. I usually hunt with the notch feature off. I only use the notch when the trash becomes unbearable. The notch feature is hard to figure out and don't expect a miracle when using it. I always use tone ID when I search and this is the only Tesoro unit that has tone ID in search mode. I have owned many different brands but always come back to Tesoro for basic detector performance and use.


Max Depth: 7 inches on US quarter
Overall Rating


Durability


Ease of Use


Would you recommend this to a new user? No, it's too complic
Tony from Oklahoma

113

Golden umax is a sweet machine!
July 10, 2012
It's just a fun detector to use, with the tones and notch system you can set it up how you want it, I like the different tone it gives on a nickel vs pull tabs there are higher end machines that don't do that, they just give middle tone to both targets, and add a clean and sweep coil to it and it becomes coin and jewelry vacuum in the sports fields its a true winner in my book! WB
Overall Rating



Wb from Al

141

Improved Tesoro Golden Micro-Max
March 02, 2012
Bought a Golden Micro-Max in 2004 and was always sorry I sold it, so when Tesoro came out with the new tone arrangment I bought this latest model. Now nickles are the 2nd. highest tone and the tones are more separated. Also, the sensitivity has been improved. It has much better depth than the old Golden and it will sound off on my copper Lincoln cent buried 8" deep.
This new Golden is much improved over the one that I reveiwed here in 2004. Five stars now.
Overall Rating



Vareb from Virginia

244

Golden umax = Gold rings
July 12, 2011
The golden umax is a great detector, light/fast & loves gold rings.
It has its own language, learn it & it will preform for you.
I have found many gold rings with this machine.
Its my # 1 detector.
Overall Rating



Wltdwiz from Arizona

222

Best Coin And Jewelry Detector Made
June 02, 2011
I really enjoy the Tesoro Golden uMax detector a lot. Some people claim that they have trouble distinguishing between the 2 middle tones, because they're so close together in tone. It's not an issue with me, because I notch out zinc pennies and screw caps.
By notching them out, there's one less middle tone to listen to. I don't care to detect and dig modern zinc pennies and screw caps anyway.

When I start out searching a new area, I set the discrimination knob to the preset marker, turn the notch switch to "narrow notch" and turn the notch width knob completely to the right. At this setting, it will beep on very small thin gold rings, small mid-size gold jewelry, nickels, dimes, older copper pennies, quarters, half dollars, silver dollars and all kinds of silver jewelry. At this setting it notches out a lot of your older pull tabs, so you will not be annoyed with them beeping.
If you start digging too many screw caps, switch over to "wide notch" and that notches out both zinc pennies and screw caps and you won't hear them beep. If you start digging too many beaver tail pull tabs, turn the notch width knob to the 10:30 o'clock position and they're gone as well.

Anyway, you get the ideal that the Golden uMax will do a lot and help you find lots of good stuff. This is one of best coin and gold jewelry detectors made. It's super light weight, so you can swing it all day long. It has plenty of depth. To top it all off, the Golden comes with a lifetime warranty.

BTW, the newer Golden uMax detectors have the tones changed, so they can be distinguished more clearly. The old tones are fine with me.
Overall Rating



Gerald from Germantown, TN, USA

300

Golden Umax a step up
April 25, 2010
Recently Upgraded from a Silver Umax and am really happy with the result. This detector will do everything the Silver will and then some. I am very happy with the notch feature and it works well as advertised. Take some time to learn the tones, and how it reacts to different targets....and you will really like this machine....I sure do!
Overall Rating



LittleJohn from South Central, PA

240

Not so good !
March 10, 2010
I used this detector for over 5 years and I can say that this is not a very good detector.
The multiple tones are not really distinguishable, and the discriminator is not very effective.
Overall Rating



Pascal from Bordeaux, FRANCE

649

I like it
April 12, 2009
I find dimes with it down to 8 "'s.
I like the tones an option I wish they would allow you to select on the teyjon.
With this tesoro I can tell you when I am going to dig a silver coin by the warm tone it gives me.

The notch is nice to use too. I take some pulltabs I found for the day and can notch them out with good results. This machine has found me the most out of many machines I have used thru the years.


Overall Rating



Greenmeanie from Ct

314

Just listen to the tones!
March 28, 2009
Well this is my second Tesoro I've owned so far and I got to say I really like this detector and believe it or not, I don't use the 9 x 8" coil. I use the brown 8" concentric and actually gained a inch in depth in air testing and listening to the tones and getting a feel for it and when I get midhigh to high tone I'd pull out a coin everytime and most of them were wheats and found two silver roosevelt dimes as well. I run my sens at below iron and listen what the machine is telling me and when I come across that mid high tone to high thats nice and repeatable I dig it and had one pull tab that fooled me but other than that if it had better depth it would recieve the fifth star but all in all great machine!
Overall Rating



BRANDON MOORE from Newry Maine

181

Give it time, and it is a winner.
September 14, 2007
I've owned three Goldens, and regret it each time I sell one. The bottom line with this machine is that you need to give it time. Tesoro says it has four tones, which is somewhat true... It really has many many more. It has it's own language that you will learn over time.

Solid targets have solid tones. For example -- I found that gold rings and targets similar in composition have somewhat of an ascending tone. But if it is a pulltab, it would be a descending tone on the backswing.

I've taken my golden on the beach alongside my buddy who had his Minelab Excalibur, and it kept right up with him. Why? Is it as deep as an excalibur? I'd say no. But, when you understand what the Golden is telling you, you'll dig plenty.

The notch setting takes some getting used to as well, and you'll need to practice with it for a while. With the narrow notch setting, I hunted a field that was used for rock concerts. It was littered in tabs and crushed pieces of aluminum. I dug three pulltabs that day, and lots of nickels.

Give this one some time, and you will see it's a keeper...
Overall Rating



Maineiac from Southern Maine

410

---