Makro Racer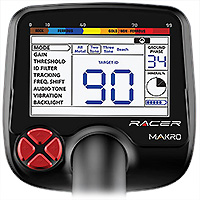 Price:
$650
Avg. Score:

4.5
Based on
14
reviews
Avg. Durability:

4.14
Avg. Ease of use:

4.36

---

Fast hitter!
July 23, 2018
I have the "red racer" so using Garrett and Whites, both respectable machines, but...... this machine is a fast swinger and when you hit feather in that target for a good id. Depth is sometimes lower than mark but I run with gain high in the low 90's. Just turn down gain and it gets it. A quick simple machine but don't let that fool you its deep. I found a 72 penny at 9" rock solid hit yesterday. The gold runs higher which I like and coins are about what all others mark. Then again I run high gain.
Dimes seem to hit better deeper than quarters I think, maybe I need more old quarters. Air tests on this machine is where it separates from most as anything in ground is deeper by three to four inches. Puck coil has great id lower depth and stock is a little front end heavy. I slapped on a cores strike and this thing is a great killer. I can sweep ground and ping targets faster than my arm will allow. Another plus to why I won't get rid of this detector anytime soon is beach. This thing is a super sand machine! I go from dry sand right into wet and with larger coil I'm sweeping the coins out from under the AT trails. I even get up later now lol. Large numbers, easy set up, power, and comfort is my choice one. Not water proof but I dont swim to detect I'll dive so I dont care.


Max Depth: 13 inches on US quarter
Overall Rating


Durability


Ease of Use


Would you recommend this to a new user? Yes, absolutely!
Matt C. from White Lake Mich

51

Gold racer
March 28, 2018
It says on the box "finds it all big or small" believe me it will and because the discrimination system is so appallingly bad you will dig it all as well. It loves small foil, theoretically you need it to but finding tiny scraps gets boring.

The detection circuit is great but the big boys have spent decades sorting the discrimination part and it shows. As an all metal machine its REALLY good but using it to find gold in a trashy area extremely hard work indeed. I have now sold mine I had hoped being a "gold" machine it would have some magic chip that gives a gold object a very slight indication its actually gold but it doesn't its 56 khz does nothing more than a 18khz machine. I tried it along with a fisher f5 and a fisher f75 both the racer and f5 on a thin 9c chain, a broken 9c earing and a 14c pen nib saw all three as iron (surprised the f5 saw any of it) but the f75 didn't see the chain but indicated the other 2 as foil, in this case the gold would definitely been dug if you had your iron discrimination up to high in the other two.

It had looked great on paper but outside of nugget hunting it has little value as the discrimination side is useless.


Max Depth: 5 inches on US quarter
Overall Rating


Durability


Ease of Use


Would you recommend this to a new user? No, not really.
Dave from Uk

52

Excellent!!!
March 23, 2018
I have used many detectors trying to find what I was looking for. I was never fully satisfied, always found something I didn't like about it. Finally I bought a used Makro Racer. The original one. This IS the perfect detector for me. DEEP easy to set up and use, I just plain love it. This thing just plain rocks. I love everything about it. I'll never sell mine. I am done looking for new detectors. I tried the new Equinox and this racer is just plain better, sold the Eqinox. Enough said.


Max Depth: 11 inches on US quarter
Overall Rating


Durability


Ease of Use


Would you recommend this to a new user? Yes, absolutely!
Cwr from Ok

124

Red racer pro pack
January 14, 2018
My first md, 4 years in and still in love with it, disappointed to hear that the dongle bt is no longer available, the head phones that came with the kit were junk, lasted 1 season, machine is easy to operate and deep, solid, light weight, looking at getting one for my wife.
Overall Rating


Durability


Ease of Use


Would you recommend this to a new user? Yes, absolutely!
Robin from Canada

70

Makro red racer
August 17, 2017
I bought mine off eBay, it was nearly new only a couple of months old. I was pleased to find it had 22 months of warranty left. It has a 2 year warranty on it when sold new. The warranty is transferable.

I also bought the wireless Headphone kit and added it to my unit. I really like the wireless headphones. The dongle goes into the side of the control unit. Installation is easy, and it looks like it belongs there. The Bluetooth is controlled through the control unit, and It came with a nice set of Phillips Heaphones. Latency doesn't seem to be an issue with mine. I found the Makro detector was a pretty good detector, it will pick up on some pretty deep items.

You will need to learn your tones when you are using it because mine will give tones and not give a VDI reading on deep items. I have learned that is sometimes where the really old things are, deeply buried. I have found several dimes, about 10 inches deep with it. They did not have a VDI reading and I dug them strictly based on the tones. I have several detectors besides this one, But I like this one a lot. It is as deep as any I have, and it is balanced well. I like that you can adjust the tones, there are 5 settings so if one is irritating you for some reason you can change what they sound like.

I also use mine in all metal mode, it seems that gives the quickest responses, and best depth.


Max Depth: 10 inches on US quarter
Overall Rating


Durability


Ease of Use


Would you recommend this to a new user? Yes, absolutely!
Brettfromokla from Oklahoma

112

Makro racer
July 30, 2017
Keeps up with the best. Very capable wet salt sand machine. Deep. Superb audio. Terrible id numbers. Very solid machine. Swings great. Looks like a toy. Not like it. But works like a PRO! Try it, you will see for yourself.

I used the expensive explorers, and others. All of them left the building. Only my tesoro,s and racer are still here. And here to stay. Not bashing minelab or whatever brand. Just not for me. I tell you, the audio on the racer is best I have experienced. It blends. It will not lie to you. Give it time as is the case with any detector. Just keep on giving it time . And forget your id numbers. They wont work on any machine when depth pops in.

In parks etc I shift to three tone from time to time since two tone is the way to go. Just for checking the sound for shallow ones. At 80 gain you will gain. And if you do like numbers, dig 45.
My first 60 hours I always had a very odd find at that particular number. And was the only number I trusted. At least for being something strange again. Its a work horse for serious money but not the kind of money that makes you worry to long. Thanks again turkey for making this solid performer. Hh


Max Depth: 14 inches on US quarter
Overall Rating


Durability


Ease of Use


Would you recommend this to a new user? I have no clue...
Patrick from Europe

63

Magic racer 1-2
July 18, 2017
Hello all, searched the fields, the parks and the beaches .. Dry and wet sand . Flawlessly it operated . This is a fast and deep easy go unit with great audio. I can confirm that it is very good on wet salt sand. No falsing, good depth, the best vlf for sure at the wet sand yes, the explorer series from minelab have a couple off inches more on depth but with their weight, slow recovery ( used them ) and slow menus... There is not really a advantage.

I can only say, this unit, although great, is the same as a tesoro or a whites or a whatever brand, not for everyone. It is a pretty nervous race machine willing to go fast and faster. It sparks and pops and does do its best to get you a headache.. Reduce sense will eliminate that migraine.. I found out that sense on 80 max will do any job with ease and pleasure. I am a tesoro user for a fair amount of years and I had some issues listening to the constant music of the racer compared with the super silent bark only when clear signal way off those units. Yet I have learned to listen and getting more comfortable each hunt.

Man this thing is deep, it is amazing. The menu I really like! Easy setting up, perfect and fast to work with without any delay on the screen. Swinging this thing is crazy, first 10 minutes I thought what is this for balance.. It will help you after a half hour .. Now the balance seems perfect . Very strange.. Instead of stop you must push through and you will adapt and you will swing this thing even better then a tesoro. Without fatique as well.

Personally I do not like the "toy" look of it. It does not look very serious like the explorer series for example. But turn it on, ground balance, and go.. You will know instantly how serious you can be. It is for the money a great detector, of course. No doubt about that. For me, the audio is one of the best ever heard after a while . It was not love at first sight. The blending of it is simply superb. So, in the need for a serious all rounder, with both, a display but also extremely reliable audio, very reasonable in weight, big numbered, machine. Which will give you good chances for finding precious metals..

Think it over. I will not sell mine, having a vaquero, and the racer 2 .. I can combine analogue with digital style both running at 14 khz.. Works great for me, I use the vaquero in parks, and the racer at ploughed fields and beaches. And I think it is more then enough, spending more money will give me also a headache haha if these 2 or one of them was waterproof 100 percent.. I was making history ??


Max Depth: 12 inches on US quarter
Overall Rating


Durability


Ease of Use


Would you recommend this to a new user? I have no clue...
Patrick from Europe

63

Makro racer
December 30, 2016
For the money really top notch if you want to compete with the big boys etracs, xp deus t2,s spending hundreds of pounds will not make you a detecting god allowing you to find the holy grail its your choice and everyone has a favorite trusted brand but this machine is all and more can hold its own against the top over marketed detectors.
Overall Rating


Durability


Ease of Use


Would you recommend this to a new user? Yes, absolutely!
Jason callaghan from England

2112

Makro racer. impressive!
June 19, 2016
I have owned allot of detectors in the nearly 40 years I have been hunting. I've owned a Whites DFX, XLT and V3I as well as an E-Trac, Fisher CZ3D, Garrett AT Pro and currently own an XP Deus which I enjoy using but am still learning the audio responses. The ability of the Racer to "scream out" that sweet high tone sound when you encounter a coin is as good or better than I have seen even in detectors costing 3 times the money, including the XP Deus. Granted the XP Deus has more custom settings than the Racer but if you want a turn on and go unit that's simple to tweak for best performance it's tough to beat the Racer.

Setup and ground balance is a breeze. The Racer's stability in my Nebraska soil was excellent with hot rocks and iron being rejected both visually and audibly. I was impressed by the Racer's target accuracy even at depths past 6 inches and that's with the factory default gain. Target ID's did't jump around on the good targets and the sound is smooth and crisp. The detector is light weight and well balanced and look's and feel are top notch.

Not that an air test replaces in the ground depth measurements but you will be blown away at how sensitive the Racer is when you are air testing a quarter at nearly 16 inches. I look forward to many years of happy hunting with the Racer and am interested in seeing what the new Racer 2 might have to offer.
Overall Rating


Durability


Ease of Use


Would you recommend this to a new user? Yes, absolutely!
Brent from Nebraska

3922

Makro racer
June 17, 2016
Bought this detector on eBay from Spin a disc in Halifax Yorkshire, UK. THE screen kept freezing on pinpoint. But Stuart from Spin a disc was extremely helpful, and replaced the whole kit, even new accessories.

Being extremely deaf and wearing 2 hearing aids. I Have used headphones but it is awkward with my hearing aids they do intend to fall out, so this is a disadvantage for me. Previously owned a Minelab Safari, and a Garrett Euroace. Which Are very good detectors and people are having excellent results using them, and finding RARE and interesting artifacts. Personally not suitable for me.

Sorry, Minelab and Garrett. But, I found it extremely difficult to differentiate between low, mid tone, and high tones. But the Makro with its Two Tone, Three Tone and Vibration facilities are extremely helpful for me with impaired hearing, many thanks Makro. Due to health issues this hobby gets me out and about, NOT perhaps the best hobby with my hearing, but this is what I have chosen to do.
Any one who knows of any metal detectors that are user friendly for people with hearing difficulties would be most helpful to me and other people who experience similar problems. Maybe someone needs to TACKLE this problem and advise people with the same problem as me. Anybody who can give me and other hearing impaired people advice would be truly a god send.

This is not a criticisms of any metal detector brands. This is a review of my personal experiences and if this review helps others in the same situation then hopefully some good will come out of it. Many thanks, and kind regards.


Max Depth: 10 inches on US quarter
Overall Rating


Durability


Ease of Use


Would you recommend this to a new user? Yes, absolutely!
Rob J from South Wales

2316

---