Makro Racer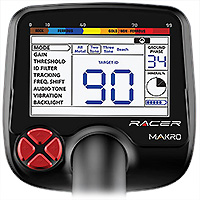 Price:
$650
Avg. Score:

4.86
Based on
7
reviews
Helpful Tips:
1
Avg. Durability:

4.57
Avg. Ease of use:

4.71


Compare to ▼
Fisher F-19 $800
Nokta FORS CoRe $699
Whites MX5 $600
Whites Sierra Super Trac $700
Nokta Velox One $629
Tesoro Outlaw $650


Makro racer
December 30, 2016
For the money really top notch if you want to compete with the big boys etracs, xp deus t2,s spending hundreds of pounds will not make you a detecting god allowing you to find the holy grail its your choice and everyone has a favorite trusted brand but this machine is all and more can hold its own against the top over marketed detectors.
Overall Rating


Durability


Ease of Use


Would you recommend this to a new user? Yes, absolutely!
Jason callaghan from England

148

Makro racer. impressive!
June 19, 2016
I have owned allot of detectors in the nearly 40 years I have been hunting. I've owned a Whites DFX, XLT and V3I as well as an E-Trac, Fisher CZ3D, Garrett AT Pro and currently own an XP Deus which I enjoy using but am still learning the audio responses. The ability of the Racer to "scream out" that sweet high tone sound when you encounter a coin is as good or better than I have seen even in detectors costing 3 times the money, including the XP Deus. Granted the XP Deus has more custom settings than the Racer but if you want a turn on and go unit that's simple to tweak for best performance it's tough to beat the Racer.

Setup and ground balance is a breeze. The Racer's stability in my Nebraska soil was excellent with hot rocks and iron being rejected both visually and audibly. I was impressed by the Racer's target accuracy even at depths past 6 inches and that's with the factory default gain. Target ID's did't jump around on the good targets and the sound is smooth and crisp. The detector is light weight and well balanced and look's and feel are top notch.

Not that an air test replaces in the ground depth measurements but you will be blown away at how sensitive the Racer is when you are air testing a quarter at nearly 16 inches. I look forward to many years of happy hunting with the Racer and am interested in seeing what the new Racer 2 might have to offer.
Overall Rating


Durability


Ease of Use


Would you recommend this to a new user? Yes, absolutely!
Brent from Nebraska

2716

Makro racer
June 17, 2016
Bought this detector on eBay from Spin a disc in Halifax Yorkshire, UK. THE screen kept freezing on pinpoint. But Stuart from Spin a disc was extremely helpful, and replaced the whole kit, even new accessories.

Being extremely deaf and wearing 2 hearing aids. I Have used headphones but it is awkward with my hearing aids they do intend to fall out, so this is a disadvantage for me. Previously owned a Minelab Safari, and a Garrett Euroace. Which Are very good detectors and people are having excellent results using them, and finding RARE and interesting artifacts. Personally not suitable for me.

Sorry, Minelab and Garrett. But, I found it extremely difficult to differentiate between low, mid tone, and high tones. But the Makro with its Two Tone, Three Tone and Vibration facilities are extremely helpful for me with impaired hearing, many thanks Makro. Due to health issues this hobby gets me out and about, NOT perhaps the best hobby with my hearing, but this is what I have chosen to do.
Any one who knows of any metal detectors that are user friendly for people with hearing difficulties would be most helpful to me and other people who experience similar problems. Maybe someone needs to TACKLE this problem and advise people with the same problem as me. Anybody who can give me and other hearing impaired people advice would be truly a god send.

This is not a criticisms of any metal detector brands. This is a review of my personal experiences and if this review helps others in the same situation then hopefully some good will come out of it. Many thanks, and kind regards.


Max Depth: 10 inches on US quarter
Overall Rating


Durability


Ease of Use


Would you recommend this to a new user? Yes, absolutely!
Rob J from South Wales

1412

Makro racer 2
June 05, 2016
Good enough detector if you have good ground. In my mineralised soil showing 3-4 bars on the graph, you will do well to get 9 inch on a large copper penny, don't listen to the absolute crap being touted about 20 inch deep coins, the detector only air tests to about 16 inch max! In and around iron it falses high tones so it takes a while to figure these out against a good non ferrous target beside iron.
The TID is rubbish after 4 or 5 inch depth, got to go by the tones, the iron audio is very useful as you can turn down the iron report to a whisper. Falses bad on wet black sand. The nel tornado coil gives a much better 'dig' signal on deep targets versus the smaller stock coil.


Max Depth: 9 inches on US quarter
Overall Rating


Durability


Ease of Use


Would you recommend this to a new user? Yes, absolutely!
Robert from UK

2210

It almost reads to deep.
March 09, 2016
I'm hitting 12" on quarters on the wet sand on the west coast Ca with the stock coil. The only real downsides of the wet sand is it's not water proof or even water resistant that I'm aware of so a drop in the water would be costly and as mentioned it almost reads too deep. As once you dig in the wet sand the hole is 1/2 filled up by the time you can get a second scoop, add in the water surging and you can expect to work hard and quick for your finds.

The other problem is it's almost too sensitive, but that's the sacrifice of it reading so deep. In trashy areas you'll almost certainly want to get a smaller coil because it picks up nearly everything. But seldom will it give a clear tone on something really deep. Overall for the money the detector is hard to beat for the price and I consider it one of my better investments.


Max Depth: 12 inches on US quarter
Overall Rating


Durability


Ease of Use


Would you recommend this to a new user? Yes, absolutely!
David from Ca. Centtral Coast

1911

Gran bel metal detector
September 13, 2015
I purchased the makro racer for some months now. Once you are familiar with the instrument it is really simple. Available different search modes (two tones, three tones, beach). For the sea is one that fits precisely the beach. Manual balancing of the sand... In addition you have the option to search the shoreline where the sand is wet.

Fast response times, really responsive. With valuable tools like LED lighting plate and vibration when it detects a signal, backlit display, with discrimination in 99 segments. Quality/Price really the TOP.



Da qualche mese.. Ho acquistato il makro racer.. Una volta presa confidenza con lo strumento davvero semplice.. Disponibili diverse modalità di ricerca (due toni, tre toni, beach).. Per il mare quella più adatta è appunto quella beach. Bilanciamento manuale del terreno... Inoltre si ha la possibilità di cercare nella battigia dove la sabbia è bagnata. Tempi di risposta rapidissimi.. Davvero reattivo... Dotato di strumenti validi come led di illuminazione piastra e vibrazione quando rileva un segnale, display retroilluminato, con discriminazione a 99 segmenti. Rapporto Qualità/prezzo davvero il TOP.

Overall Rating


Durability


Ease of Use


Would you recommend this to a new user? Yes, absolutely!
Giuseppe from Italia

2427

Outstanding detector
August 27, 2015
The Makro Racer is the third metal detector that I own and use. I am amazed by the quick response of this unit while working in trash. The depth of recovery is unlike any machine that I have hunted with. I'm finding coins at 18 to 20 inches and I know it will do even better. It's very easy to use. It's very sturdy build but very light weight so you can hunt all day.


Max Depth: 18 inches on US quarter
Overall Rating


Durability


Ease of Use


Would you recommend this to a new user? Yes, absolutely!
Gene from USA

4569



---