Makro Pointer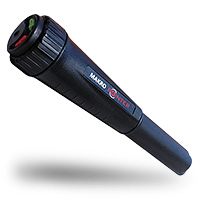 Price:
$125
Avg. Score:

5.00
Based on
2
reviews
Avg. Durability:

5.00
Avg. Ease of use:

4.50


Compare to ▼
Nokta Pointer $139
Vibra-Quatic 2 Pinpointer $169.95
Nokta RS Pinpointer $130
Garrett Pro Pointer $150
Detectorpro Pistol Probe $170
Garrett Pocket Probe $120


Quality made pointer!
August 03, 2015
The only other pin-pointer that I have ever owned was a cheap one so I cannot compare the Makro to any others but I can tell you this. I have been using this Makro Pointer for a while now and have had zero problems. It is a well built quality product that works extremely well. What else can I say other than try one for yourself. I think you will agree!


Max Depth: 6 inches on US quarter
Overall Rating


Durability


Ease of Use


Would you recommend this to a new user? Yes, absolutely!
Matt from USA

20

Good!
July 24, 2015
Verry good pinpointer! All I have to say.
Overall Rating


Durability


Ease of Use


Would you recommend this to a new user? Yes, absolutely!
Anonym from Europea

30



---