Bounty Hunter Land Ranger Pro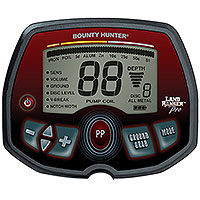 Price:
$344
Avg. Score:

3.75
Based on
4
reviews
Avg. Durability:

4.25
Avg. Ease of use:

4.75


Compare to ▼
Garrett Ace 400 $399
Minelab GO-FIND 60 $310
Whites TreasureMaster Pro $399
Fisher F44 $400
Whites TreasureMaster $299
Bounty Hunter Quick Draw Pro $299


The best for the bucks
April 14, 2017
I have had over 10 different detectors from all major manufactures, I have had the LRP for about 3 years, when it first came out. It is as good or better than all of the ones I had before.

The monoplane buttons could be better, but I've adjusted to their sensitivity. This unit has all of the features one needs to either turn on and go, or adjust for particular hunting areas and styles. The screen is nice and big, the information easy to decipher and it's light enough to swing all day without fatigue. The recovery speed is about as fast as it gets. The depth is also impressible, to 10" on a quarter sized object.

With it's all metal mode, that shows depth and conductivity in real time, one could find that the LRP will surprise with even more than 10" targets. One button ground balance or manual ground balance can be obtained in the customs and all metal modes. For the price, to get all of the power and options of it's ability, plus a 11" DD coil, well.....Where can you get that for under $300.

It's a great machine to learn on with it's 3 preprogrammed turn on and go modes, and it's ability to move to 3 different programmable modes to change sounds, notching and to ground balance. In a nutshell, the Land Ranger Pro is all you need to command the ground up to 10". More than that is gonna cost you.....Big. If you love digging signals more than a foot with a shovel, then you need to look elsewhere. If you enjoy detecting targets with a hand digger and having fun doing it, look no further. Phantasman (Dan)


Max Depth: 10 inches on US quarter
Overall Rating


Durability


Ease of Use


Would you recommend this to a new user? Yes, absolutely!
Dan L from East Tennessee

40

??good!
July 27, 2016
The following use of computer translation, may be a lot of syntax errors. I am a user from China, this is my first detector, I have done a lot of comparison before buying it, and finally chose it! It did not let me down! So far I have used it for 10 months, in the 10 months I used it found a total of 50000 worth of RMB (about $7500) items, most of them are ancient bronze and silver coins. Its depth is very common, but the function is perfect. Once you are familiar with it, you will know it is very handy.


Max Depth: 9 inches on US quarter
Overall Rating


Durability


Ease of Use


Would you recommend this to a new user? Yes, absolutely!
Fei from Chang

80

Vdi numbers useless
June 12, 2016
I bought this machine in Spring 2016. The potential looked awesome but proved a big disappointment. All so-called goid targets turned out to be junk! Went to some old fields aND could not lock into old silver at any depth. So please don't waste your money! I sold it quickly afterward. Big disappointment!!!


Max Depth: 9 inches on US quarter
Overall Rating


Durability


Ease of Use


Would you recommend this to a new user? No, not really.
Alfred from K4A5C1

022

Not to bad
April 26, 2016
Since no one has written one I will do my best. I have only owned it for about a month, but I have used and many different ones. This detector is not going to be super deep. It will be about what they say, 10 inches on coins, maybe. I would say around 7 to 10 inches. I have tested it to 7 inches in real hunting. It came across loud and clear. I don't know about beach hunting, never done that. As far as a coin machine, I think that you will like it. Especially for the price. It has some pretty good features also. A true all metal. Several preset programs, and some you can change. Ground balance is nice, and simple to accomplish. All in all I like it, plus simple to use right out of the box.


Max Depth: 9 inches on US quarter
Overall Rating


Durability


Ease of Use


Would you recommend this to a new user? I have no clue...
Cwr from Ok

302



---