Tesoro Tiger Shark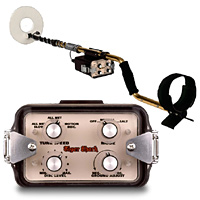 Price:
$750
Avg. Score:

4.25
Based on
8
reviews
---

Tiger Shark
January 01, 2009
I have used the Tiger Shark for about 3 years now and have found more in jewelry and coin value than the unit cost me, so I would say I am satisfied. I have been successful on land, wet salt sand beaches and in shallow water. I have found coins at 10" deep on the beach, but the hailo effect of corroding metals might have enhanced the depth since the coins were always corroded. I have also found a steel belted tire at 3' deep. I like the fact that the coils are interchangable, and I do use different size coils for different condtions.

I have had the unit or coils repaired three times now and all it cost me was the cost to send them back to the factory. I didn't expect the unit or coils to break down this many times, but if this is common, the lifetime warranty is a good thing. a couple of drawbacks: 1) The unit falses at the saltwater surf line where the wave action is moving the sand around. 2) Discrimination is difficult. It is not possible to "Just dig the gold/mid-tone targets". Overall, I am satisfied with the performance, but if I get another unit it will be more stable in salt water and detect deeper so I don't miss anything. If I could get that with better discrimination too, it would be a winner.
Overall Rating



Ralph from Charleston, SC

719

Update on repair
May 03, 2008
Looking forward to getting my repaired Tiger Shark back, but am a little disapointed that I am being charged $195 for the repair. So much for the lifetime warranty.
Overall Rating



Bud Slater from Dudley

6444

Tiger Shark is very easy to produce the goodies.
September 06, 2007
If there is one thing wrong with the Tiger Shark is it is under priced for it's performance. It is the only VLF that you can change coils yourself as it has a connector. Will respond to gold chains, something other detectors find hard to do. Easy to pinpoint and deep too. Has a great Ground Balance control unlike the persets on a few other water machines. Very easy on battery usage.
Overall Rating



Sandman from USA

609

It' a good one
June 13, 2007
I tested a new "Tiger Shark" today in an area I know to be target rich. I have gone over it with my BHID 20 times or more and always come up with a pouchful. I used the tiger for about 3/4 of an hour.2 gold rings, 40 coins, and 10 odd sinkers, plus the usual trash. Easy swinging, perfect bouyancy,depth,pinpoints in the slow am with the best of them. That is 4 stars, the downside for the money is the headset. the audio is good the construction very poor. slips off the ears, just a pain, always adjusting for comfort.
Overall Rating



Gilbert Roy from Sebring florida

556

Great - BUT....
January 10, 2007
For our salt water diving expedition we bought a Tesoro Tiger Shark and a Garrett Sea Hunter Mk II (also reviewed). The Tiger Shark was meant to give us a few more options (or so we thought) and ensure we had a back-up detector.

The performance of the Tesoro and the Garrett were both EXCELLENT but obviously the Tesoro had a few more tweaking options available just giving the performance edge on the land. Very little to seperate them in the water.

Now comes the BUT..... Unfortunately it only lasted 3 dives due to water leaking in at 25m! And YES we did look after it. We loved using the Tesoro up to this point! If it wasn't for the leak I would completely recommend this detector. Even with the additional options (over the Garrett Pulse) it was easy enough for a beginner to get excellent results.

If it didn't leak I would have given this 4 or even 5 stars. At such a high price I would have expected it to last longer though! Hence only the 1 star. Now I have to get it repaired! And I will - because it was lovely to use... such a shame.
Overall Rating



Bud Slater from Dudley

538

ONE Fine Underwater Detector
July 10, 2005
I have been using my Tiger Shark for shallow water hunting (10' or less) for some time now and I am really impressed. It ground balance very nicely and is very sensitive to small gold and silver targets. I have found numerous small gold and silver ear rings and also chains. However, your recovery scoop needs to have very small holes to recover these small targets. I lost quite a few before I solved this problem.

I have found gold rings deep enough that it took as many as 5 to 6 deep scoops (big 8" Scoop) to get them in my scoop, leaving a hole in the bottom well over your ankles.

I have never had a water leakage problem and the white coil makes it easy to see in murkie waters.

As far as I am concerned, this is ONE Fine Detector for my type of underwater hunting......HH
Overall Rating



Cyril B. Smith II from Colorado, Springs, CO USA

1026

Tiger Shark *****
March 19, 2005
I recieved this for my Bday. It is heavy (4lbs) but that is only the control box. It can be mounted on your hip, or under the arm rest for better weight/balance. The rod is virtually weightless after hip mount. Great in fresh water.
Overall Rating



A from Central texas

403

Tesoro tiger shark
July 29, 2003
I have used the Tiger shark for 2 years. Very sensitive will detect deeper than the Sting Ray but I use both of these detectors when I go hunting. I like the interchangeable loops. Still getting use to the Tiger Shark so far have found 12 gold rings. I like the Tiger Shark or the StingRay better than I did the 1280x fisher. I might try the CZ 20 some day but I do like the Tesoros. G G G

Overall Rating



Greg gust from USA

11819

---