Fisher Gold Strike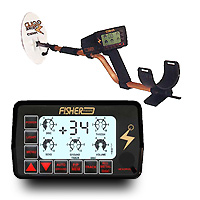 Price:
$850
Avg. Score:

4.43
Based on
7
reviews
Avg. Durability:

4.00
Avg. Ease of use:

3.00

---

Fisher goldstrike
December 07, 2016
GoldStrikes isn't a great choice for newbies, or those who are attached to zip zip audio. They will probably get very frustrated. I used a 6" coil and found tiny rusty iron and lead bird shot in my plastic nugget scoop reliability with quick recovery. I found it detect well on all the small targets not too deep. G.$. Settings I used:
Sensitivity 3 to 5 max. (Fishers are hot, lower sens settings work fine)
Threshold -1, 0, 1, 2.
Auto ground balance on Iron disc on setting to 80 to 90 Volume 10
Where I was testing out the GoldStrike at Quartszite and Morristown Arizona gold fields the ground was lightly damp down to 2" to 3" inches, why the 6" coil was working well.

I was able to find tiny bird shot with no trouble. The GoldStrike is well built battery life is great. Ground balance tracking is fast and trouble free. The touch screen works well, had to repress buttons at times. LCD screen labels for: disc, ground balance are too small for me. I would sometimes while hunting try to switch disc and ground balance off and have a hard time reading the LCD. But not a big operation issue.

The detector ran stable and predicable during the 2 days of testing. The low tone audio didn't bother me, I tuned it out. Several times I had some confusing false high tone signals, however the area has positive hot rocks. All vlf detectors I've tried here have had trouble with the same ground.

Conclusion GoldStrike Not a really great beginners machine. I liked the 6", that coil is very sensitive and light. Dig repeatable + High tones in disc mode. Keep sensitivity settings on the low side unless the ground is mild, a setting of 4 is still going to find tiny targets and not false too much.


Max Depth: 8 inches on US quarter
Overall Rating


Durability


Ease of Use


Would you recommend this to a new user? No, it's too complic
Allen from Arizona

40

Excellent ++
September 14, 2012
This is a excellent gold detector I can't see the bad review from South of the border or only giving it 4 stars when it deserves 10 my Gold$trike outperformed two of my upper end Minelab gold vlf metal detectors, this unit the Gold$trike hits targets that my Minelabs do not even see or respond to. I can't see why Fisher discontinued this model, it does work differently than most metal detectors but it does its job exceeding well, I really like the hot rock rejection because we have a lot of them here and it finds some very small pieces of gold or mini pickers and larger nuggets with ease and along with the power of this extraordinary machine I also pickup a lot of trash but I expect that it is a very hot detector. This Fisher may not be for everyone but for the nugget shooting that I do it is a perfect match.
Overall Rating



Lee from Oregon

142

STILL ONE OF THE BEST
October 29, 2010
I was reading the review from Argentina, your inability to find gold has nothing to do with how well this detector works, it finds very small pieces of gold no problem but you have to be in a spot where there is actual gold in the ground, I own a number of detectors and a PI unit. I have to say this Gold$trike is easy to use and very effective only if you are in a place that contains gold to prospect, saying you found everything else should be a clue that you are in the wrong spot or can't figure out which end of the shovel to use, I have had mine find gold right under hot rocks that is very impressive. So do some home work before you write a poor review of the gold$trike.
Overall Rating



Dennis the menace from Redding ,CA

325

Un gran detector
September 27, 2010
hola soy de argentina compre este, para encontrar oro en pepitas he insistido bastante en la busqheda pero oro nada lo demas es una barbaridad, balas clavos herraduras y todo tipo de metales si tienen una configuracion nueva para este gold strike que es complicado para manejarlo en caso de tener algo estaria agradecido me la pasen por este medio. estoy muy contento de tener un lugar como este para los fanaticos de los detectores, agradecido por dejarme escribir nuestras experiencias y gracias saludos desde esta grandiosa argentina.

A great detector
Hi, I am from Argentina, I bought this one to find gold nuggets, I have searched a great deal but no gold, the other finds are plentiful, bullets, nails, horseshoes and all kinds of metal, if you have a new configuration (settings?) for this gold strike that is difficult to use, if you have I would be grateful if you gave them to me. I am happy to have a place like this for the detector fanatics Thanks for letting me share our experience and regards from the great country of Argentina.

from Ricardo (Rick) Valentino
Overall Rating



Ricardo valentino from San juan ARGENTINA

811

Excellent gold detector
September 20, 2009
I just cannot understand why Fisher discontinued this detector I was out in the feild with another $1000 gold detector I noticed my Gold$trike was much more sensitive to smaller pieces of gold and other metals, also it has the ability to reject hot rocks and detect gold underneath them where my other gold detector does not, this guy is almost cutting edge for its ability to detect very very small pieces of gold!! Once you learn the tracking in black sand and how to set it up properly for mineralized soil this guy works very well, I use it together with my PI detector when searching for gold..
Overall Rating



Jeff from Redding ,CA

361

Very competent unit!!
August 20, 2009
If you are a traditional Fisher user you will not like this machine, but I prefer the membrane buttons and the direct read out, on screen adjustments and the backlight, also the manual and automatic ground balancing, if you learn how to use this detector you should be very happy with it, it hits very small targets, and has a two tone system for hot rocks, just a low tone if it is a hot rock and a low and high tone if it is a metal target, also the sound of the machine or output tone is pleasent to listen to.

I can see what the last reviewer said if it is adjusted wrong you might think something is wrong with the machine if you use the tracking feature while hunting in an area with high mineralization you will get alot of false targets, it could use a pinpoint mode but other than that it is an easy unit to learn to use....Unfortunately Fisher quit producing this model I don't think it caught on with Fisher traditionalists, it seems this model and the coin$trike suffered the same fate.
Overall Rating



Rick from Wa state

221

Is the Gold Strike worth it... ?
September 21, 2005
I have been using the Gold Bug 2 for several years now and I thought I'd upgrade to the newer Gold Strike from Fisher. At first I thought I had made a real mistake but found that the biggest part of the problem was the operator... me...
The Gold Strike has a much more difficult learning curve than the Gold Bug 2 but if you put in the time and effort to learn the detector it works quite well. I took both detectors with me on a trip to central Az, and ran them against each other in a field test.
Result... over the course of 3 days, every time I detected a nugget with the Gold Bug 2 the Gold Strike would also find it before digging, The Gold Strike found 2 moderately buried nuggets that the Gold Bug would have missed because of hot rocks.... The Gold Strike did find a lot of Trash that the Gold Bug ignored but the final tabulation was ..
Gold Bug 2 --- 5 nuggets (very small to medium)
Gold Strike -- 7 nuggets (very small to medium)
Total gold ... about 4 Dwt.
If you take the time to learn how to use the Gold strike, it is a very good machine. For a first Detector I wouldn't recommend it but for someone willing to take the time to learn how to adjust it properly, It is worth the effort.
Overall Rating



Glenn R. from Central Texas

2408

---