XP Goldmaxx Power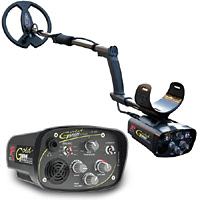 Price:
$1100
Avg. Score:

4.21
Based on
14
reviews
Avg. Durability:

5.00
Avg. Ease of use:

5.00

---

Xp goldmaxx power
August 14, 2013
This has to be one of the best machines ever made, I've just got back into detecting after a 10 year break, and my employers gave me permission to detect on there 850 acre virgin ground.
In 2 months I have found 4 hammered coins and about 200 pre decimel coins, and about £100 in modern coins, I have a box full of medieval bits that are being checked by my FLO, I've owned all the top range minelabs but the Gmaxx is the best in my opinion, the only thing I don't like are the sounds of the tones.


Max Depth: 9 inches on US quarter
Overall Rating


Durability


Ease of Use


Would you recommend this to a new user? Yes, absolutely!
John Dakin from Leicester

60

Goldmaxx power What A Beast
August 15, 2011
What a beast I have used laser / tesoro machines for the last 15 years. However I have just brought the goldmaxx power and have been out twice on sites that have been hammered (pardon the pun)
The first trip 2 cut halves and a cut quarter 2nd trip henry VIII penny and john penny. These came from rough disked fields I cannot believe how good this machine is, using machine on settings Sensitivity 12o'clock iron volume off iron threshold auto middle switch silence this is until I get used to the machine cant wait until rolled buy it you wont be disappointed.
Overall Rating



Old BILL999 from Kent England

233

Sound machine
January 18, 2011
I moved onto goldmax power after being proud owner of garret ace 250, which I still have and cherish.

Got to use my ears more on gmp as no digi display, however I do feel more confident with gmp on digs, fantastic on depth and multi id tones is fantastic and accurate, no time wasting once your brain tuned in.

I do find there is to much cable on search head and had to change plastic bolt for spare with second time out. A lot thinner than garret bolt hence the 4 stars.
Overall Rating



Richmorley from Uk

137

Great Lightweight Machine but...
January 11, 2011
loves iron to bits, will struggle with the high mineralization. You have to be ready to dig some coke - it will appeared as a good two way signal for sure. Need some hours of practice.
Excellent results on hammered coinage. Sold and bought Cibola a lot better machine on my Roman sites
Overall Rating



Matt from UK

615

Top of the class for hammered coins
November 10, 2010
What a great machine this is, just give yourself time to learn its capabilities, take your time don't try to push it to hard until you are experienced enough to understand it.

Once you have mastered it, on cultivated fields there is no better machine. It's light and well balanced and the wireless system is spot on.

Pound for Pound it's streets ahead of any of the competitors.

The majority of our club members use these and some of the guy's have been detecting for over 20 yrs.

Good luck.
Overall Rating



Stretch from Staffs UK

230

XP GOLDMAX POWER V4
August 24, 2010
I bought this machine as back up for Explorer II and after 2 years of use I can honestly say that on my local conditions of high iron mineralized soil and coke infested pasture. Coke is present due to acidic soils being treated with burnt limestone and the coke is a waste product in this process. NOT from steam engine fireboxes. If your conditions are similar then this is definatly NOT the machine for you.

Any targets at depth give signals that morph into low tones even with the expensively priced high energy 11 inch larger coil. The bad photocopy instruction booklet and flimsy backphones supplied with manufacturers package leave a lot to be desired

If you search pasture where most targets are at 6 inch deep and further this is not for you. Unless you enjoy digging lots of coke and large iron, even in auto the machine will still register large iron, a wider discrimination setting would be useful.

The higher sounding tones are indistinct to the older user .

This machine does excell on cultivated groud with shallow targets.

I only give it 1 star due to my personal experience on my ground conditions, other areas will vary.
Overall Rating



Jack Trapp from Wales ,west UK

2811

Best detector I've owned.
May 03, 2010
Got myself the GMP about 5 months ago, and I am very pleased with the results so far. I've been detecting for nearly 17 years now, and have used a Tesoro Silver Sabre 2, a whites DFX, a Golden Mask +3 (hideous machine!) and more recently, a Laser Hawkeye. The GMP is definitely my favourite machine to date, (once you get the hang of how it works). I have found more hammered silver coins with this machine in the five months I've been using it, than I ever found with any of the others!

I think some of the reviewers here who have mentioned the GMP being unstable, may have been trying to run it 'too hot?' I know the sensitivity has a mark that says set it to the 3 'o clock position, but that only really works on clean ground, where you can run it that hot! The ground I detect in the UK is pretty contaminated/mineralised, and the hottest I've ever managed to run the sensitivity is at the 1 or 2 'o clock position, but a lot of the time I'm at 12 'o clock, and sometimes even as low as the 10 'o clock position! This is not a problem though, as in air tests show that you can turn the sensitivity right down if you need to, and the loss in depth is negligible.

I wouldn't recommend using this machine on the beach, (definitely NOT on wet sand) as this machine was never designed to be a beach machine in the first place. It excels inland though, as that's what it was built to do!

Where this machine really pulls it out of the bag, is on busy iron contaminated sites, like Roman and Medieval settlements. I now have the confidence to slow right down, and get in between all the iron, because that's where the goodies are, and I KNOW that this machine has such a fast recovery speed that I WILL find stuff there! In the past, with any of my other machines, I would have just walked away from those areas, because they would have either become too unstable to use, or just nulled out due to iron overload.

It's a great machine in the right places, but then like any other detector out there, no one machine is going to cover all the bases! Use this detector on the type of ground it's designed to work on, and everyone else will be eating your dust!

As regards setting it up, the accepted wisdom is;
Sensitivity: 12 'o clock
Ground: 11 or 12 'o clock
Silencer: 1 (but 0 if you're needing super fast recovery- 2 if you're on quiet ground and want that extra depth).
Iron Volume: Try it at 10 'o clock to start with.
Iron Threshold: Start off with it set to 12 'o clock.

This is a good basic starting point for the settings, and you can raise or lower them as needed, to suit the ground you're on.
If you're plagued by 'false' signals, you're probably trying to run it too hot! Turn the sensitivity down a touch. If you're getting 'false' signals each time you knock the coil on the ground, then you've probably got the ground reject set too low. If you take the time to learn this machine and set it up right, then you'll be raving about the GMP as much as I am!

I hope this helps, and good hunting, whatever machine you choose. :)
Overall Rating



Davey Of Oxfordshire. from Oxfordshire, England UK.

1064

Xp100
February 20, 2010
This review is for the xp 100, which doesn't appear on the listing. It is now called the xp 150, basically the same machine. This is simply the very best simple starter detector you can buy. It is also one detector that you will not need to upgrade. It does it all, land or beach. They are getting a bit expensive now and you don't see many secondhand. Thats why I DEEPLY REGRET SELLING MINE.
Overall Rating



Dirk from Notts ,england

151

THE GOLDMAX POWER Russ in (UK) ///
November 25, 2009
Lobo supertraq, troyx3, troyx5, tesoro tejon pro, minelab(soveriegn elite) I've tried most. The (GOLDMAX POWER v4) is with out doubt the best machine I've ever used.

My favorite setting is out of auto,(iron threshold 7.5)(ground to 11.O'clock)(iron volume to 11.O'clock and (sens to aroud 2-3 0'clock) you will still get (HOT rocks)& large iron but (not large nail size objects!). The recovery speed is lightning fast and you wont miss a thing if its there? You will know when you find (silver or gold) by the signal, its faster sharper and louder!!! If you are like me in the(UK) roman to medieval sites! First try your sites out of auto! If too many hot rocks leave in the auto setting, you only lose a bit of depth. Best of luck & good hunting!
Overall Rating



Anonymous from Unknown location

623

XP GoldMaxx Power v4 chip
November 20, 2009
The xp has a very fast recovery. This is not to say that you can swing it faster.

Iron id is great as it gives a buzzing sound. Seems to be extremely sensitive to iron.

Some gold coins sound a different tone. More of a yellow gold gives the lower tone.

It is unstable at times and had to have the sensitivity turned down being in a trashy area. I could be 18 inches from some steel and hear it buzzing. Oh yeah, don't go to the beach with it. Seems it would do best to be a clean dry field or park.

Tested under tall power lines was fair as it seemed to struggle to give good tones. Not sure if it was from all the trash too.

Listed at one web site as a gold nugget detector...don't believe it. Could barely detect a 0.1 gram nugget touching the loop. Got a better sound on top of the loop. Tested a 1.1 gram nugget and sounded off good at 6 inches but the sound weakened some with more passes then sounded off strong again. Very inconsistant and it only happens with the nuggets.

Not a multi purpose machine. It's very good with coins but not with nuggets. I was more interested in getting a nugget detector but should have done more research. I give it an average rating.
Overall Rating



$1K in the hole...shoulda bought a MXT from Southern California USA

1313

---