Whites Beach Hunter 300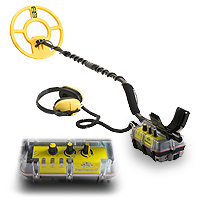 Price:
$1000
Avg. Score:

4
Based on
20
reviews
Avg. Durability:

4.71
Avg. Ease of use:

4.00

---

Paul from baltimore
January 08, 2017
Actually I think the best way is just get out there and do it. Yep experience is the way! I have Tesoro Stingray, Tesoro Vaquero and bought a Whites 300 at a yard sale like brand new. Love them all and each one has its own personality. My 300 found dimes on the beach at the surf 12" deep. Pretty cool. What a GREAT HOBBY...


Max Depth: 14 inches on US quarter
Overall Rating


Durability


Ease of Use


Would you recommend this to a new user? Yes, absolutely!
Paul from Maryland

31

Had to comment again.
November 20, 2016
I have already posted on this review site but feel I need to add a few more comments. I have been using the detector for a long while now and have found more gold, silver and coins than any other detector I've used, including minelab's beach machines.

WHEN LEARNED PROPERLY, this machine is about as good as it gets on a beach. Why do people moan about the led's....... they are there to give you a clue to what the target is, NOT a definitive answer. A yellow light does NOT mean that you have found gold, it means that you have found a target that falls within the range of gold. No detector anywhere can tell you that you have found gold. I'm afraid that aluminium falls in the gold range so if a detectorist isn't prepared to dig ally, they shouldn't expect to find any gold.
The led's on this machine should be read like this, a red led means you have gone over iron, a red led mixed with any other colour led means you have gone over iron or there is iron and a good target mixed in the same hole......Digging a signal like this may sometimes pay dividends but is usually junk.
The yellow and geen/blue led's show you that you have gone over a non ferous object, yellow being the most common led to indicate gold, but also indicates aluminium, some coins, foil etc.
The blue light can indicate silver or again some coins. A mix of yellow and green can indicate heavyweight jewellry or again, larger pieces of aluminium.

Very large pieces of iron or unusual shaped pieces can fool the machine into giving a non ferous signal, like it can on most machines. The best way to hunt with the machine is to use discrim for more recent losses, ie coinshooting for shallow targets when people have just left the beach and use all metal for the deeper targets such as deep jewellry.

Discrim mode will give you less depth but more accurate target id whereas all metal will give almost pi type depth but with less accurate target id. All you have to do in this mode is dig everything that isn't red..... Yes you will dig some junk but the extra depth is worth the trade off and will get you finds others have missed.

I get tired of people dismissing machines because they haven't taken the time to learn them properly......If you are after a quick fix where you don't dig any junk at all but still expect to find the good stuff, metal detecting isn't for you. No machine can give the accuracy some people expect, detecting is still hard work and you have to dig junk as well as good stuff.

The BHID is a top detector that in the right hands is capable of cleaning up on the beach and has better performance than other top machines.....I know as I have owned and tested many different models. Its one downside is that it does take some work to get competent with and for some I guess, this is just too much.
Overall Rating


Durability


Ease of Use


Would you recommend this to a new user? No, not really.
Neil from ENGLAND

164

Oceangator
July 29, 2016
Sorry Mr. Aussie, I also have had all the problems that Floridaman had... Lights not representing what they should...
Overall Rating


Durability


Ease of Use


Would you recommend this to a new user? I have no clue...
Lisa Knatz from New Jersey

35

Bh300
July 29, 2016
After a few years of water detecting and numerous water units. I have finally come to the conclusion that the BEACH Hunter 300 is by far the if not best dual frequency water unit out there. That's a hard claim to name indeed. I've run the excal, the cz20 and the BH300 all 3 are tops but each one performs a bit different then the other to a point.

The cz is almost the same unit as the BH300 minus 2 khz and a heavier built control box, depth is pretty much the same. The excal is by far the choice of many water hunters but when it comes to an issue being repaired. Not many places will fix but kellyco, and a few guys that do mods for a hefty price. The BH300 is by far the best all around unit for the money, and warranty. Fresh and salt water and land hunting its capable of doing it all.
Many fantastic finds have been popping up with the BH300. And I thank whites again for a great unit as many of my finds have been with the BH300.

Do yourself a favor get a unit that works and will keep on working right next to the other big names. Good luck. Ray, Sam Wagaman....


Max Depth: 14 inches on US quarter
Overall Rating


Durability


Ease of Use


Would you recommend this to a new user? Yes, absolutely!
Ray, Sam Wagaman from Pa. Fl.

161

Great machine
June 23, 2015
For those that complain about BHID LIGHTS jumping back and forth make sure all your batteries are good. I had some batteries that were not all good and will cause the BHID go crazy. Good batteries are a must. This detector has really been working good for me after I figured everything out. Not hard to use at all. I bought a used one with older 950 style coil and I do like it. May God bless!


Max Depth: 8 inches on US quarter
Overall Rating


Durability


Ease of Use


Would you recommend this to a new user? Yes, absolutely!
TW from South east

61

People are just crazy !
November 06, 2014
I have owned several bhid but the truth is that you will dig plenty of garbage with any machine You may dig 10,000 pulltabs to one ring ! Go out and put in your time ! And stop complaining that all you found was 20 pulltabs 6 bottle caps and a quarter in an hrs hunt When I hunt and I hunt often its a min of 4 hrs and never complain, give the machine a chance you freaking bunch of whiny yuppies! As a mater a fact take up another hobby so I have more gold for me! Btw I have other machines other than whites!


Max Depth: 8 inches on US quarter
Overall Rating


Durability


Ease of Use


Would you recommend this to a new user? I have no clue...
Whites Beach Hunter from New York/ South Carolina

1513

Brilliant machine.
February 11, 2014
I bought this detector as the logical next step to my M6 so I could do a bit of wading. After a few initial problems I can honestly say that this detector is a great machine. It's not the sort of machine you can just switch on and go, it does need some patience and a bit of perseverence to get used to it and get the most out of it.

Ground balancing can be tricky at certain beaches but if it is too difficult, the ground balance knob can be left at it's centre position which will give excellent results. In all metal, the threshold can become a bit unstable but this is down to how sensitive the machine is and how it responds to ground conditions. The machine is very sensitive to tiny objects and very deep in the all metal mode..... It won't miss many targets once you start to get used to what it is telling you. The more you put in with this machine, the more it will reward you....... And it will reward you big time........You just have to work at it.
Overall Rating


Durability


Ease of Use


Would you recommend this to a new user? No, not really.
Neil from England

185

Beach 300 tips: love it!
February 01, 2013
I have enjoyed using the Whites Beach 300 and certainly recommend it but thought two tips might help.
- On Monday I went to a Yorktown Va park and worked the beach as I had done before. Lots of cannonball fragments and few modern coins later my detector seemed to be showing false tones and lights. Checking connections did not seem to help and the battery strength was green. Since the batteries are the same ones that had come with the unit over a year ago, I exchanged them with a brand new set, Energizer Lithium supposedly able to last 9 times longer. The problem with false reads continued.

Back at the house I tried trouble shooting and another set of batteries (Energizer Alkaline). They worked perfectly and the false tones disappeared. I checked the voltage on all three sets of batteries and learned that each of the oldest batteries carried only 1. 3 volts, the Lithium 1. 75 volts, and the Alkaline 1. 6 volts. I concluded that my detector false reads were simply due to the batteries that were either too weak or too strong.

- A few weeks ago I ordered a Vibra Quatic 2 in the hopes of probing close to seawall rocks and ledges, and when digging deeper targets in the watery/shifting sand to confirm target location. I found it was nearly impossible to use the VQ2 while even arms distance from the Beach 300. Both units would give false signals and to turn the VQ2 off, then back on again wasted time. I exchanged that pinpointer for a Garret Pro Pointer and love it. No interference with the Whites Beach 300. While not fully waterproof the 4 inches at the pointing end is, so the GPP meets my need. KellyCodetectors were helpful and prompt in making the exchange.
Happy Hunting! Charlie
Overall Rating



Charlie from Chesapeake Va

99

Ben's treasures
January 22, 2013
I solved the flotation issue with a piece of 1/2 inch PVC pipe 22" long and two end caps and a quart of sand. Be sure to pickup pvc pipe clue. Glue one cap on and then fill with sand and glue the other end on. Then take two velcro straps and strap it tight to the shaft. Be sure to strap it to the side of the shaft so there is no water drag. Problem solved
Overall Rating



Ben from Minnesota And Arizona

86

Beach Sweeper
September 13, 2012
Using the BHID for two years now. It is a good machine. It will sweep the beach of coins outperforming most other machines that I have seen. It will go deep, sometimes too deep. It is heavy on dry sand. When the LED is green you almost always have a keeper. Large aluminum will fool it. I have detected beer cans 3ft deep. Bottle caps and pull tabs will give a yellow LED but the tone will give them away. A mixed yellow green LED is gold or jewelry almost always. It takes time to learn the machine. It is rugged, well built and weather proof. It is a dry sand, wet sand, shallow water producer, worth the price.
Overall Rating



Pete from Cape Cod

267

---