Minelab Xterra 705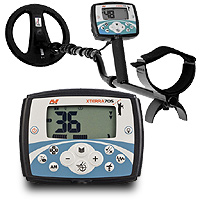 Price:
$900
Avg. Score:

4.38
Based on
21
reviews
Avg. Durability:

5.00
Avg. Ease of use:

4.80

---

Not as good as the 70
October 26, 2018
The x-terra 705 is a great detector but it is sadly not as good as its older predecessor the X-Terra 70.


Max Depth: 6 inches on US quarter
Overall Rating


Durability


Ease of Use


Would you recommend this to a new user? No, not really.
James Paterson from Perth

18

minelab x-terra 705 versatility
February 21, 2018
Have the x-terra 305 liked it a lot. Now have the X-terra 705 which has a lot more to like and goes deeper. Realistically digging more than 10-12 inches is about all I want to dig. The 705 can get there and sometime a litle deeper depending on the target. There is a learning curve with the 705 but having had the 305 it sped up the process for me. If you take the time to learn this machine it will reward you. Do your research for good sites to detect. Take your time and signals will start popping. Good luck.


Max Depth: 11 inches on US quarter
Overall Rating


Durability


Ease of Use


Would you recommend this to a new user? Yes, absolutely!
Steve from Northern Nevada

90

Best detector out there!!!
July 24, 2017
Been using it with a 10.5 DD 7.5 coil hits sinver at 10 inches in hi mineralized soil! In normal soil with sens maxed will hit 15 inches easy with this coil.


Max Depth: 15 inches on US quarter
Overall Rating


Durability


Ease of Use


Would you recommend this to a new user? Yes, absolutely!
Juan from Roma

126

Solid
April 19, 2017
I have a Whites MXT Pro and I love that detector. I bought a Minelab 705 as a backup. I think the 705 is equivalent to the MXT Pro but actually much more solid on a detection. With the whites MXT often I'm not 100 percent sure its not a false signal But 705 I'm 100 percent sure. Love the Minelab 705 5 star. Minelab Go Find. = Shame on you Minelab... Trash


Max Depth: 10 inches on US quarter
Overall Rating


Durability


Ease of Use


Would you recommend this to a new user? Yes, absolutely!
Garry from Quebec

253

Best all around detector!
August 27, 2014
It took me a couple years of trying several style detector to finally find "the one". Only thing this detector is missing is submersible waterproof and that is a niche market. The stock 9" performance is on par with an Omega or G2. The 10.5" 7.5khz coil is about 50 percent deeper! Auto noise cancel to choose least affect frequency is wonderful. No more guessing. V-flex makes a huge different in EMI resistance.
I was skeptical but the difference is night and day on the middle and lower frequencies vs other units I've had like the V3i, Omega, F2, Eurotek Pro, Delta. Light weight, many coils, many tones, simple but valuable options, and high build quality. What else do you need?

I no longer feel the itch to upgrade. Buried depth: 7" quarter, 24 sens, 6" 18.75khz coil 8" quarter, 24 sens, stock 7.5khz coil 10" quarter 24 sens, 10.5" 7.5khz coil 12" quarter 24 sens, 15" 3khz coil.
Overall Rating


Durability


Ease of Use


Would you recommend this to a new user? Yes, absolutely!
Craig from Columbia

4426

Can't beat the x-terra 705
February 04, 2013
I have owned many detectors and I hunt for both coins and jewelry as well as gold nuggets. This detector is as sensitive as a Gold bug 2 and eureka gold, and it will find gold deeper than those two detectors.

It will do some pretty amazing things to find your good targets if you learn your detector and dig all those iffy signals you are not sure about until you learn what it is telling you. Any person that has bought one and then resold it to buy another detector because they say it is no better than a cheap detector is lacking in patience and they are expecting what no detector can do.

If you want a detector that will keep up with the top dogs with finding gold nuggets (VLF detectors) and also one that will keep up with the higher end coin detectors, then this 705 is the detector you want. It is a detector, that once you learn it well, you will never want to part with it. Its that good.
Overall Rating



Reese Townes from Montana

5817

Minelab 705
October 22, 2012
I purchased the 705 as an upgrade to my Ace 250. Dealer recommended the Gold Pack as it came with the 10x5 18khz DD coil. The 705 has nice tones, easy menus and is very light weight.

I've been detecting since 1972 and was proud to own the 705.. .. however the "aha moment" never arrived. In discriminate mode it was no better than my Ace 250, depth or target ID.

Although my Ace has the 5x8 dd coil shouldn't a $729 detector beat a $279 unit? Some may say "run the 705 in all metal with 2 tones" Yea it will go deeper then but who wants to run all metal with bouncing tones and numbers? Very tiring on the eyes.

Sent the 705 back and will stay with my Ace 250 until I decide. Perhaps the Tesoro Outlaw?

Minelab club? I quit.
Overall Rating



Rick from Osage City, Kansas

35105

Review x terra 705
April 15, 2012
I am a brand new metal detectorist and recently bougth the Minelab X Terra 705. Before buying I did lots of research and discussed with my local club in St Neots, and Joan Allen a supplier in England who were brilliant.
The general advice I received from the club was buy second-hand for your first machine and a really good starter machine is the Laser Hawkeye.
However, I liked the X Terra as I thought was a machine that I could grow into and it seemed quite modern in terms of its digital approach with pre-set discrimination patterns, numerical readings for types of metal and many automatic features such as ground balancing and noise cancel. Yes I'm a sucker for gadgets in cars as well.

I struggled between buying the 505 and the 705 and in the end I bought the 705.
What have I learnt?
It's not as simple machine as I thought and as I'm getting used to it. Also the numbers from targets can jump around, but if you get lost you can reset and just use the pre-set patterns. Nonetheless, the Minelab site is fabulous and you tube with Kevin Hoagland has fantastic tutorials.
Buy a good small shovel, I've broken several tools over the last 3 weeks! And in the end the Screwfix Roughneck Micro Shaft Round Point Shovel did the trick within budget.

Err it's a very, very muddy hobby, the mud gets everywhere and I am in danger scratching the control box. Must get a cover for it ASAP, but mustn't let wife know, she may not be too happy if I spend any more money! Why doesn't Minelab supply one as standard?
I have had the machine for three weeks and dug lots of holes in my garden, it's a learning curve and I now hate aluminium foil with a vengeance. Also, I never knew there was so much iron in the ground, its everywhere, even in stones! However, the discrimination patterns are brilliant on the 705 and once you set them the machine goes silent as you go over iron so you know its there if you feel like you want to dig you can.
On our first proper outing this weekend my son and I were kindly allowed by a local small-holder to detect on their land. ~ Initially we did everything with all metal, in the pig area, we didn't miss one lump of iron or iron ore and are a bit smellier to boot, but we had fun. Then as the afternoon caught up with us we became ruthless, set the discrimination pattern on 2 and bingo, Small hammered silver medieval coin, then an 18th Century crotal bell and then a corroded copper penny and they ranged from 3 to 8 inches down.
Once you do your research and learning it a brilliant machine, it clearly finds stuff. But one thing I have struggled with is pinpointing, I dig where it tells me to and the target may be a few inches away and I don't want to do damage to the people who have let me use their land. However, in hindsight with my limited budget I now know I needed a good pinpointer such as the Garret and with what I now know I might have gone for the 505 with a separate pinpointer.
However, everyone in the family knows what's on my Christmas list and after my first outing I have learned lots of stuff about crotal bells, I have also spent the weekend researching silver hammered coins and just emailed photos of my very proud find to the finds liaison officer. What a brilliant weekend, thank you Minelab.
Overall Rating



Fenland Sapniel from Huntingdon, England

5921

Exterra705
March 06, 2012
I have had this detector for about a year now, when I first got it I found it a little hard to get used to, I was used to a ace 250 turn on and go. Then I just decided to use only the 705, and wow what a difference. Change the threshold crank up the sensitivity go all metal when you can and the tokens, coins, and over 23 rings just come out of the ground. A high 42 bouncing signal has been leading me to old burn holes at a old railroad site which has lead to many bottles a gold and silver pocket watch and lots of relics. Its a great detector learn to use it you wont be disappointed.
Overall Rating



Just old dirt from Utah

7411

Exterra 705
January 11, 2012
I got this detector about Six weeks ago and have not been able to go out more than Seven or Eight times because of the weather. Its easily usable out of the box using its pre set Modes/Programs... As you learn this MD, everything can be manually changed to better fit your needs.
The Three frequencies That are changed by the search coils and all of the different coils available provide even more specializing of the MD to the given conditions of whatever site you are detecting at any given time. The Coils are not Cheap, but then you are not buying them Daily. Minelabs Site and Tutorial videos are very helpful, as is the E-Book by Randy(Digger) Horton... Mine has never Chattered or shown a false target, if its shows a target there is one under the coil somewhere. The two mode pinpointing having a sizing Mode option is a big plus. The more I use and learn this MD the more I like it. I think you would have to pay a "Lot More" just to get a Little More MD than the Minelab 705!!!!
Overall Rating



Vanstheman3 from Lake Dallas, Texas

6921

---