Fisher 1236 x2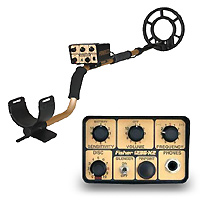 Price:
$400
Avg. Score:

4.8
Based on
25
reviews
Avg. Durability:

4.80
Avg. Ease of use:

4.80

---

Fisher 1236x2
November 01, 2018
Recently purchased a 2nd hand Fisher 1236x2 after reading good reviews on here and am really impressed at how effective this machine is here in UK. I run it at zero discrim and full sensitivity and silencer off and just listen for the clear signals coming through, and how clear and loud they are even on small stuff. If you get the chance to still grab one in the UK do it, you wont regret it.
Overall Rating


Durability


Ease of Use


Would you recommend this to a new user? Yes, absolutely!
Gary from Yorkshire UK.

80

Fisher 1236x
January 03, 2017
Still a real coin hoover 20 plus years down the line old school can still destroy a lot of other so called arse kicking machines. I'm glad to have this bit of kit in my armoury this machine payed for itself years ago and is testament to fisher harder to get hold of one now but worth getting one if you ever get a chance, a legend!


Max Depth: 12 inches on US quarter
Overall Rating


Durability


Ease of Use


Would you recommend this to a new user? Yes, absolutely!
Jason xcallaghan from England

213

Very modest deep with the original 8'coil
May 29, 2016
I am very surpriced with the reviews here for the depth of Fisher 1236 x2. I have the detector for a while and evething works just fine, good discrimination but the depth is very disappointing! Big silver coin or male gold ring - the same. With the 8'coil you fill not get deeper than 8'. I heard somewhere that the depth of search is almost equal to the diameter of the used coil. Maybe it is true with this Fisher 1236 x2.


Max Depth: 6 inches on US quarter
Overall Rating


Durability


Ease of Use


Would you recommend this to a new user? No, not really.
Plamen from Europe, Bulgaria

25

Sorry i sold it detector
November 03, 2014
The 1236x2 is a keeper, and I'm sorry I didn't keep it! It's one of those detectors that you grab first, good all around detector.


Max Depth: 12 inches on US quarter
Overall Rating


Durability


Ease of Use


Would you recommend this to a new user? Yes, absolutely!
Ken from Colorado

154

Great machine
August 02, 2013
Wow what a machine!! I have been laughed at for buying it by my hunting pals that are using new 700.00 Minelabs and I've went in behind them and found good relics and it holds it's own against any machine out there in my opinion.

First trip out went with my cousin, who has one of the new Minelabs, and we went to one of his hunted out spots, first signal I got was a Sharps Ringtail in a spot they hunted for weeks, second signal a Enfield Pritchard that was fired in!! I smoked them with my "little machine" as they called it on several trips.

This machine is my 3rd Fisher and I honestly like it better than my 1266 because of the frequency control and it is just as good when it comes to depth. Only advice I can give learn what it's telling you and you'll know what your digging before you break ground!!
A++++ all the way.


Max Depth: 17 inches on US quarter
Overall Rating


Durability


Ease of Use


Would you recommend this to a new user? Yes, absolutely!
Clay Parson from Iuka,MS

211

1236x2
March 01, 2012
This machine is Brilliant, my second metal detector and I am impressed, I went out last week found an old lead round Bullet around 9inches deep in trashy soil the bullet was 7mm in diameter the only time I will hang this baby up is when I can afford the f75. . . . . . . . . . . . . If there is treasure the 1236x2 will find it!
Overall Rating



David from England

202

Fisher 1236 x2
June 21, 2010
Very very nice machine must be the biggest secret in the detecting world, pound for pound its a very good little machine, great performance, iron rejection very good, silencer feature excellent and boy is this machine deep!
Heres a tip use GP 170 rechargeable batteries they don't stick or swell and they just slide out. for UK use this machine is spot on. 5 stars if I could I would give the fisher 1236 x2 10 stars. Deeper than a Tesoro and holds its own against many top end machines.
Overall Rating



Ash from ENGLAND

663

1236x2 really likes the silver!
April 03, 2010
Have had this for 2 weeks now but have been hitting the places I have hit a ton of times with the tesoro's and really impressed what I've been getting from the places I thought to be hunted out so my last find was a 1905 Canadian 5 cent piece and was down about 5 to 6" and this coin is smaller than a dime.

Now for the negative, I have so far, have had to run the disc level pretty high because it does love those old square nails and sometimes can't be disc out so beware on those but other than that and depth is great, pinpoint is very accurate and listen to the clicks and pops there telling you whats in the ground and then a good signal will come in that will not disc out and there's no crackle dig! Thats what I'm learning and according to air testing there is not much depth loss so if your a straight coin hunter don't be afraid to disc out and as you go along bring it back down to learn the language a little better and just want to say if you have the 5" coil for this its deeper than most coils for this size, all in all a super machine for the money its a shame they quit making them!
Overall Rating



Brandon Moore from W.Paris Maine

303

Fisher 1236 x2
October 03, 2009
What a machine, completely staggerd what you get for the price, all round belter probaly a fisher machine that most people overlook, I did ? not know tho, I own one, what a darkhorse this detector turned out to be, never ever used a fisher before, its that good id consider buying another as spare greedy really but what a machine for the price superb.
Overall Rating



Kev from Uk

395

Simply awesome
July 16, 2009
I bought one from ebay for 190 bucks I have had it for 30 minutes and found a 1943 walking liberty Half and several wheat Pennies in my front yard. You need to understand this machines Language. I have several other Hits that I marked with Poker chips that I need to dig.
Overall Rating



Tommy from Texas

215

---