Garrett Treasure Ace 100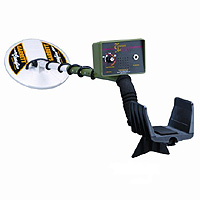 Price:
$120
Avg. Score:

3.82
Based on
11
reviews
Avg. Durability:

5.00
Avg. Ease of use:

5.00

---

Owner for 20 years
September 07, 2020
I bought this detector when I was 12 years old. Now I'm 32... and this thing still works great. I know people with way more expensive gear and that comes with way more settings to take account off. I love it. Discriminating is just matter of experience. I would buy it again if it ever breaks down.


Max Depth: 7 inches on US quarter
Overall Rating


Durability


Ease of Use


Would you recommend this to a new user? Yes, absolutely!
David from Belgium

21

Garrett tresure ace 100 cross fire
May 20, 2015
I got it from a friend that upgraded. I traded him with plumbing work I did on his sink. I have to say I was surprised with this older detector, I went to another friends house that was built in the early 1800's and on a tip from a video on you tube I did very well after I figured out the beeping and what it meant.

Tip one, clear beep on both swing's side to side. I found stuff 10inches deep.
Tip two, (under the old house) was the key. Old front and back door's under the house was best. The adjustable handle made this very easy, the hard part was me getting under there.
I found to much to list but it was along the hint on (Buffalo Nickels'), 2 Old horse shoes and yes I found one gold ear ring 4 inches deep and a ring 7 inch deep. Yes I strongly recommend this to beginners or anyone that wants something that really works and that it does, I read some of the other reviews about how weak this product is, but wait did they consider just maybe there's was worn out or if they had (BOTH)the fresh 9 volt (Alkaline Batteries)on board and not just one. It will run with just one but is weaker, try that and reconsider... When I get better at it I will place a video on you tube to prove this..


Max Depth: 10 inches on US quarter
Overall Rating


Durability


Ease of Use


Would you recommend this to a new user? Yes, absolutely!
Jason Pust from Mobile Alabama

32

Sweet little machine
November 21, 2013
I've had this unit since the late 1990's. Turn on and go with fresh batteries it works fine. As a coin shooter it's killer. With the discrimination knob all the way over it chimes the Garrett tone loudly and almost every time it's a coin.

Combine this unit with a Pro Pointer and you have a killer combination that's loads of fun. The way I use it successfully is to dig only the signals that sound off in both directions. To zero in you can back off the knob a bit with your thumb but for the most part it's right on. Newer units have plenty of bells and whistles but simple and basic works.


Max Depth: 6 inches on US quarter
Overall Rating


Durability


Ease of Use


Would you recommend this to a new user? Yes, absolutely!
Jeffs Tackle Box from Florida

131

Ace 100
July 30, 2012
Been using this at the beach in preference to a more expensive detector, who needs 'bells and whistles' when the Ace 100 finds everything worth finding on the beach. Cost around 100 quid 15 or so years back, and still going great.
Overall Rating



Hydraglide from Kent Uk

1137

Treasure ace 100
January 25, 2012
Bought this machine for £20.00, yes £20.00 second hand bargain!!

Very light and easy to use once you ignore the user manual and settings on the dial!! I found its best set at the top of the trash zone just before the 5c mark, on this setting it picks up rings, coins all the good stuff. It will pick up all other metals but you are able to discriminate with tone differences.

Excellent bargain starter machine, will pass it on to my son when I upgrade.
Overall Rating



Nick from England

1349

Garrett Treasure Ace 100
December 15, 2011
I have had my Treasure Ace for 10 years now, bought second hand in the UK for around £130. It's a good piece of kit for the price. I have found Roman coins, Bronze Age relics, coins from the 1700,1800 and 1900's. The only two issues I have with it are: The beeping is VERY loud, I had to buy headphones with volume control. Pin-pointing objects can be tricky and a little frustrating at times.
But other than that, it's great! I would buy another Garrett - YES!
Overall Rating



Adrian from Europe

1045

Garrett ace 100 feed back
January 26, 2010
I find that this detector is very weak, I'm sorry to say. When using it, I've found many items but, it passed right over a coin on the ground and did not make much of a sound. It should of went crazy but, didn't. Luckily I spotted the coin and picked it up. I cleaned the coin and saw that it was a 1889 5 cent coin. Just for curiosity why it didn't really go off, I dug a hole about 3 to 4 inches deep, covered it, then went back over it. NOTHING. I went back and forth several times and still nothing. What a disappointment, if it wasn't laying on top of the ground, I would have never found this remarkable coin.

I have mixed emotions but, still discouraged. I hope other people have had better luck using it. I always wounder what I have missed with this detector.
Overall Rating



Dr.bob from Kansas,usa

6711

Best "beginer" detector for the price, awesome depth also
July 08, 2009
Well I have had many detectors over the years and as usual I always sell them to get an "upgrade" detector, so far I have tested most Bounty Hunter and quite a few Garrett detectors, for the price this is by far the best in its price range and will outperform any Bounty Hunter any day. Discrimination is awesome and depth is about 7 to 8 inches, I would like to see that form a BH .. it will be the best $150 you will ever spend .. please read the owners manual and do the "air test" with different coins and alloys so you can find the setting best suitable for what you want to find..
Overall Rating



A-Ortiz from Carrollton Texas

2871

I very good detector!
April 25, 2009
I do not understand these bad reviews for this detector. You do not even need headphones(very loud) as the power of this is far none. Only dig the clear sounds. Simple and easy to use and has power to punch down. I think the people who give these reviews on here have not been a treasure hunter too long. This detector reminds me of the bell tone of others but in one mode!
Overall Rating



Sam from Olympia, Wa

1577

Ace? More like INFERIOR 150
April 12, 2009
Well I took mine out to the beach and yuck it started to bounce everywhere you know the signals. I then took it out to the park and found nothing but pull tabs and pennies. It doesn't even discriminate that well. I say try it on your own risk. I sold it and bought a tesoro compadre and it satisfied me better than the so called "ACE" or should I say the Garrett Inferior 150 and that goes as well for the 250.
Overall Rating



Mike from Pismo Beach, CA USA

5020

---