Minelab E-TRAC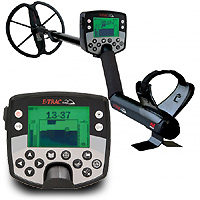 Price:
$1500
Avg. Score:

4.14
Based on
67
reviews
Avg. Durability:

3.56
Avg. Ease of use:

3.33


Compare to ▼
Whites Spectra VX3 $1200
Deus XP $2000
Whites Spectra V3 and V3i $1500
Teknetics T2 Ltd $1250
Minelab Explorer SE $1200
Minelab Explorer II $1200


Horrible customer service at minelab
October 07, 2016
Great machine, but horrible customer service! Takes a miracle to get them to return calls or emails. CEO should be fired for allowing such a great product to fail in the customer service department.
Overall Rating


Durability


Ease of Use


Would you recommend this to a new user? No, not really.
Virginia from Washington

144

Best one i have used
April 25, 2016
I don't care what anyone says bad about this detector. I have had all of them etrac always brings home the bacon, silver magnet.


Max Depth: 10 inches on US quarter
Overall Rating


Durability


Ease of Use


Would you recommend this to a new user? Yes, absolutely!
Tommy from Virgina

1010

Minelab build quality
June 13, 2015
I have a Minelab Etrac. The machine while being a good performer is falling to bits before my eyes. The build quality is crap compared to other machines like Fisher/Whites/Garrett even Cscope have ten times better build quality.


Max Depth: 8 inches on US quarter
Overall Rating


Durability


Ease of Use


Would you recommend this to a new user? No, not really.
George from UK

1031

Vista rg1000 or gold beats etrac or at
April 30, 2015
I own one it works like a ford 9". Watch the youtube videos vista and etrac you will be blown away. The vista will hit hard on a dime at 10". Etrac will barely hit it at 8 in highly mineralized red soil and then call it iron. Who's got time playing with program's that make you think your machine will do anything special when it won't out do simple like the vista rg1000 or vista gold. A better price for the etrac should be around the ace350 price range. At least the two machines are within an inch or two apart in depht. Try a vista for you will say minelab what? HH


Max Depth: 7 inches on US quarter
Overall Rating


Durability


Ease of Use


Would you recommend this to a new user? No, not really.
Bobby from Kingsport TN

1224

E-trac not for beginners
October 08, 2014
I have been detecting in the UK for many years now and have owned my e-trac for the past 4. Like many people have said before, when first switching on the machine it gives the impression it's broken and squeaks and grunts like a deranged animal...
After the first hour with it, the beloved e-trac was nearly launched into the hedgerow. I tried many settings to what I thought was no avail. Then after about a month of trial and error, bingo, my brain realized what the e-trac was all about. The machine needs to be honed to the person using it. It is a very sensitive machine, but when fully tuned in to it's operator there is no better all rounder. Here are a few tips on how to perfect this machine (don't know too much how the soils differ worldwide to here in the uk), firstly, turn off your mobile phone, this will sporadically interfere with machine (especially iphones). Remove watches and jewelry on hands. Wear wellie boots (rubber) with no metal eyelets etc. Ensure your trousers (or pants) don't have metal poppers or zippers at the bottom. Carry your digging tool above waist height (I carry a shovel on my shoulder). All these common sense factors all contribute to the noise/sensitivity of the e-trac.

I have found the machine when running a hot sensitivity (over 22) will pick-up on the slightest metallic objects or electrical item. All this, and that's without even starting on the settings. I will not go fully into what I run my settings at as it will be a personal preference. But what I will say is, if you are just starting out with the e-trac, set the machine for coins, a manual sensitivity of around 22 (drop it if unstable, add more if nice and quiet) and go for it.

Don't bother with deep search, unless specifically looking for deep objects. You will end up digging bomb craters for old junk. That said, I like to run a nice low and quiet threshold hum constantly in the background. This will (in coin mode) tell you of any iron targets by going silent. If a coin is among iron contamination it will go silent then give you the lovely solid ring/beep. To run the machine on all metal with multi-tones is a test for the most hardened detectorist. You will end up looking constantly at the screen, when you should be taking in the scenery.

Just remember this is a multi frequency machine so a slow swing and shuffle is best practice. I've dug targets at over 3ft deep, and on the same setting found bronze roman minim's in iron contaminated soil. Remember, this machine easily out performs the XP Deus on depth and range of targets.. The deus, is lighter and has cool wireless head-phones, but will be out done in the long-run... So persevere with this machine, you will be rewarded.


Max Depth: 12 inches on US quarter
Overall Rating


Durability


Ease of Use


Would you recommend this to a new user? No, not really.
Jerry from Suffolk, England

2817

Very good coin machine
June 20, 2014
A friend of mine suggested that I buy this machine based upon his experience over many years of hunting. Years ago we both bought a Whites Eagle Spectrum and is still an awesome detector but the E-Trac once learning the sounds is a superior detector. Anybody that says it's not, either cant hear well or does not want to spend the time learning the sound.

It does take a little practice. I think some people do not have the patience to learn what a solid tone is for what they are digging. There are cheaper and simpler machines that will find stuff but if you want a machine that will find the good stuff in areas previously hunted this is the detector for you.


Max Depth: 10 inches on US quarter
Overall Rating


Durability


Ease of Use


Would you recommend this to a new user? No, not really.
Wildman1964 from Hurricane, WV

204

Silver and gold with etrac
April 12, 2014
Bought the Etrac one year ago, within a month I found 1 golden coin and 2 silver hoards! One mediëval and one from the 1600's. No doubt, it's a silver killer. High tones on the silver, low tones on the gold. On the beach the best friend you can have (comparing to the Deus). This year I've found mediëval silver again, very edgy on little silver as well.

I've uploaded several programs form the minelab site, the Roman site pattern is my favorite! Great balance also! One thing: for that amount of money I wanted a bluetooth headphone. The cord is lousy. And, you won't find golden chains (jewelry) with it, it will give a blur.


Max Depth: 11 inches on US quarter
Overall Rating


Durability


Ease of Use


Would you recommend this to a new user? I have no clue...
Johan from Holland

1416

All that and a bag of chips
November 28, 2013
It lives up to it's reputation. After owning 5 detectors from 3 manufacturers I can say it easily delivers the best results, and by a big margin. CTX has fancy features, but E-Trac is the go-to world silver killer for a reason. After considerable use, the ability to identify targets by their sound mid-swing will develop due the the fantastic tones scaling.

Even with the stock coil you can perform coin pulls from trash other detectors can't touch. This comes with a downside. You won't want to dig things that E-trac doesn't agree with, and that is a no-no. If it's iffy, you need to dig it. I usually hunt in auto sensitivity, usually 19 on the scale. Manually turning it up to 25 does clean up ID clarity on deeper targets, but running it this way will be noisy. I have pulled silver quarters in the 9-10" range. Not saying it won't go deeper, it seems to on test gardens, that's just the deepest I've encountered them.


Max Depth: 10 inches on US quarter
Overall Rating


Durability


Ease of Use


Would you recommend this to a new user? Yes, absolutely!
Fairway from America

208

E-trac rocks!
July 06, 2013
While I'm still learning some of its fine details, I love this detector. On my very first day with it, I found a Spanish two reales and an Indian cent. It IS a bit noisy/chattery, but it's also great at picking out coins among junk. Once you get to know what the E-Trac's many sounds are really telling you, you will cut way down on the number of "junk targets" you end up digging. If you're thinking about an E-Trac, I would say to go for it. I know I won't be needing or wanting another detector for a long time.
Overall Rating


Durability


Ease of Use


Would you recommend this to a new user? Yes, absolutely!
Jim M. from Central PA

1811

Its OK
March 18, 2013
I have owned many high end detectors over the past 40 years. I sold the Etrac on Ebay after a year and purchased the Garrett Ace 350. So simple, great depth and doesn't sound off near as much as the Etrac, the Etrac is a good detector but by no stretch of the imagination is it worth $1250.00 more than the ACE 350. I went to my favorite spot with the new Garrett for a few hours and pulled two wheaties out at 8 inches, more clad than I ever dug with the Etrac. What more do you need? Can hit coins I drop in 10 inch holes with a clear bell tone. Why spend another $1250.00? What more can it possible do for $1250.00? Its ridiculous.

You have to be R2 D2 to decipher all the sounds coming at you from the Etrac when you lower the discrimination. I know how to setup the detector, been metal detecting for 40 years and I'm an electronics tech, its what I do for a living.

A $297.00 detector with VID, 3 tones for iron, nickels and silver, depth meter, DD 11" coil for singling out targets, super light. 95 percent of what your going to find will be less than 10", much less. Not near the chatter of the Etrac, a joy to use. The Etrac wont do anything more than the 300 dollar detector (for 98 percent of detectorists) I have and its much easier to use and lighter, when in coin mode I can hit 8 and 10 inch coins and discriminate out junk. Detector technology has not changed any in the past 20 years.

Still the same old core technology with some bells and whistles added with color LCD's and fancy bar graphs. But there is no technology that can single out a coin with a nail on top of it and it not sound like junk.
I don't care if you spend a million dollars on one, its still going to be a broken tone with a big ol QUESTION MARK by it and you have to dig it see what it is anyway. I'll spend the extra $1250.00 on a detector when it can tell me there is NAIL and a Merc dime in the same hole, until that day comes, save the money and buy something cheaper.

Just hunt with no discrimination and dig everything and save 1300 bucks. That's what I like about the Ace 350, simple and when you get a good repeatable bell tone. ITS A COIN, and it tells you what kind it is and how deep. Anything else is a questionable dig which is EXACTLY what the Etrac did. I sold it for 1200 bucks bought the Ace 350 and pocketed 900 and I'm enjoying the ease of use and finding more with the simple Ace.
I thought the more I spent the more I would find and it would be easier. WRONG! Don't believe the hype. I'm sure Ill get bashed for my input but facts are facts no matter how you slice it.
Overall Rating



Daniel Holland from Houston, TX

7061



---