Tesoro Vaquero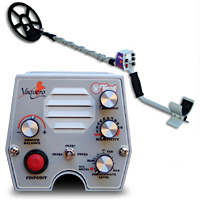 Price:
$550
Avg. Score:

4.36
Based on
74
reviews
Avg. Durability:

3.73
Avg. Ease of use:

4.32


Compare to ▼
Makro Racer $650
Nokta FORS CoRe $699
Fisher F-19 $800
Whites Sierra Super Trac $700
Whites MX5 $600
Nokta Velox One $629


Its true about the v!
October 06, 2016
Bought one. Don't believe the bad reports on here! Believe the good ones...They are right. This little V is everything the good comments say and then some! Just learn the different ways too set it up...Try them in your soil and find the right set-up and boom...Your off. I live in red soil Oklahoma and the mineralization here minimally affects this vaquero! Comfortable hunting, deep, light weight, accurate discrimination, fantastic tone that tells a lot... I understand what that means now! Finding great stuff.

Don't worry about which machine to get... Tesoro fans are right: you won't be disappointed! My nephew has a MXT PRO and this little V blows it away! Now he wants a Cibola or Vaquero. I don't know why some people on the web are so negative but just don't listen to it. Quit searching and buy a Vaquero or some Tesoro and have fun. I guess you can tell I'm a fan now too! Don't buy some expensive, fancy machine that will make you mad...Get this little wonder and go find some cool stuff.


Max Depth: 12 inches on US quarter
Overall Rating


Durability


Ease of Use


Would you recommend this to a new user? Yes, absolutely!
Treasure Hounds from Oklahoma

124

Not as deep as they say
June 01, 2016
I bought a new vaquero. I am not to happy its just a cibola with a ground balance. But it don't air test as deep as my cibola did. I get 9 inches on a quarter and 8 on a dime. I got 10 on a quarter and 9 on a dime with the cibola but I have been told since the vaquero is mostly for mineral soil so you can ground balance live and learn.


Max Depth: 9 inches on US quarter
Overall Rating


Durability


Ease of Use


Would you recommend this to a new user? No, not really.
Jake from Ohio

913

What bull
May 23, 2016
14 inches on a quarter and dug quarters over a foot deep is that with the turbo boost mod? I own a Tesoro vaquero have owned several and been metal detecting for over 30 years and your finding quarters over 12 inches deep? What did someone burry them? Its funny how many lies people want to tell only a retread would fall for that. Vaquero is a OK machine will air test on a quarter about 10 inches but quarters don't get 12 inches deep and deeper unless there in quick sand or been burried.


Max Depth: 10 inches on US quarter
Overall Rating


Durability


Ease of Use


Would you recommend this to a new user? No, it's too complic
Jason from California

1614

I like mine!
March 13, 2016
I had an old cheap radio shack detector that I've had for years and enjoyed it until I started reading about real detectors, I was happy picking up pennies here and there around picnic tables never realizing there were better detectors out there that weren't over $1000. Mine never did go more than 1-2 inches deep.

I decided on the Vaquero because it was simple and lightweight. I have found so much stuff with this thing in the last week just goofing off, it's crazy. Sterling pendant at 9 inches, silver war nickel at 8 and 5 dimes in the park yesterday, one was at least a foot deep. I am digging pretty much everything trying to learn the tones and what they mean. Don't let anyone tell you that this thing only goes to 4-6 inches, I have found 7 bucks in quarters and many were beyond a foot deep. I've found At least a hundred pennies too. Maybe the soil I'm in? I don't know but it works for me.

There is a little learning curve but if you want to go by the settings in the manual, l right out of the box it's great. I love how it only uses 1 9V battery too, I just changed mine after using it for a week and have no idea how long that was but pretty much after work for a few hours every day until dark and one full saturday and that was using the cheap battery that came with it. I don't think you can lose with the Vaquero. I don't think a readout is really necessary on a metal detector for me, seems to be just another thing to try and figure out.


Max Depth: 14 inches on US quarter
Overall Rating


Durability


Ease of Use


Would you recommend this to a new user? Yes, absolutely!
Jeff from California

158

Packs a punch
February 21, 2016
I've been using the vaquero for about a month now after purchasing it used on ebay. The first thing I really like is the light weight of course, compared to my 1266 and cz70 this thing is a pleasure to swing, as for the depth complaints I'm hearing I consistently recover coins in the 8/9"range in my dirt. This is the first tesoro I've owned and I'm honestly impressed.

After using the 1266x I can run the vaquero hot in most sites no problem, after I ground balance I turn the ground balance 1/8 turn negative and threshold slightly positive and sensitivity half in the red. It will get the deepies trust me.


Max Depth: 11 inches on US quarter
Overall Rating


Durability


Ease of Use


Would you recommend this to a new user? Yes, absolutely!
Mike from East Coast

163

Not deep
December 27, 2015
Bought a new vaquero fell for all the reviews machine is not deep as everyone says I call it the 6 inch wonder don't believe me? Buy one you'll see.


Max Depth: 6 inches on US quarter
Overall Rating


Durability


Ease of Use


Would you recommend this to a new user? No, not really.
John from West coast

1638

Tesoro vaquero
November 03, 2015
The tesoro vaquero is a solid unit, I use this unit very often and my finds speak for themselves. No, it doesn't look that impressive.. no, it isn't the most vocal one... But I tell you this, all my nice finds, like gold, silver, and all of my Older coins, I have found with my vaquero, even lately..
So I am not Talking about once upon a time.. Yes people will now start saying sure when you dig anything that beeps your chances rise to find something special and that is off course a fact. But sometimes there are more facts, like digging very little bits off junk targets when I am going out for gathering coins. The discrimination on any tesoro is good, like real good. You can fine tweak tesoro's like the way you want it to be. One tone is not perse wrong, actually it is very comfortable hunting. Although one tone, I have no problems identify a coin ( or a coin shaped object ) from a larger piece of metal. Also I have found out that aluminium soda cans are very easy to identify. Even strange shaped objects are coming trough differently. I am only talking about sound now, because when I combine my ears with thumbing the disc knob, I am digging stuff which I know in advance for 75 percent of the time. And that to me is very nice.

The whisper on deeper targets is great, I have no interest in looking at my screen for the half of a daily hunt for finding out the target is 5, 6, 7 or maybe 10" deep. I know when the target is less or more then 5" in an instant. And I am talking about coins now.. Adapt my disc to a certain setting for coins, go in a normal swing speed, listen to a coin type off sound.. And thumb my disc for identifying the coin.
Until now I have not looked one time to my unit, the coil is all I look for because I don't want him to slam clay, rocks, or what ever.

When in a go for jewelry , which I have found pretty often, put him to a certain setting, like a tad above iron, normal sweep speed, maybe a little slower to be real honest and dig those ticking sounds, although they come in from every angle by sound. They are for sure not your regular coin sound.
Luckily I had the chance to try some other detectors, like other brands and I think they all work but I think that you must Pick a detector who fits your hunting style best. Like on a beach, the wet sand, forget tesoro.. Pick a minelab with fbs system or try to pick a pi unit. But if you like to be on the dry sand where all the tourists are, believe me, the vaquero is a solid unit.

Also for park hunts, he is solid, light weight, and a tight unit. I have no problems on the wet sand, put him in all metal, sense to 6, no groundbalance, coil about 3" above the wet sand and go for it. But remember you loose depth with this unit on the wet sand. It is a vlf machine and vlf machines are having a hard time on the wet sand. Some will false a lot, some less but always they loose their depth.

Next to my vaquero I have searched with a 6 other units, also pretty expensive ones. But in my opinion, my vaquero is the only solid performer, at least for my way of hunting, which is, go wherever the wind may take me, how long my legs will carry me and when my detector is out of fuel. I buy myself one 9 volt battery and he will sing that monotone song again for hours and hours. This is my honest review of the tesoro vaquero I am sorry for my English, it is not my mother language.


Max Depth: 7 inches on US quarter
Overall Rating


Durability


Ease of Use


Would you recommend this to a new user? Yes, absolutely!
Patrick from Europe

342

Update to my review
October 22, 2015
My review on the tesoro vaquero I didn't tell you how the people on you tube are air testing so deep. What there doing is cranking the threshold and sensitivity up all the way you do that and it WILL air test 12 inches on a quarter and 10 inches on a dime. BUT its not a real test cause you cant run it like that in the field it becomes unstable and non stop chatter.
I have been metal detecting for over 30 years first detector was a garrett freedom I have had all the old beepers and I have all the so called top of the line new ones minelabs which is over priced but you got to have one to be a pro (cough) had a fisher F75 and a teknetics T2 LTD I can still find just as much with a cibola as I did with them. Go watch the air test videos on you tube look at the many replys everyone is saying mine wont test that deep WHY? There is a guy on there scanner guy that shows if you adjust the ground balance a quarter turn negative on the vaquero it will out depth a cibola on a burried 12 inch quarter, well didn't work for me.


Max Depth: 8 inches on US quarter
Overall Rating


Durability


Ease of Use


Would you recommend this to a new user? No, not really.
Slim Pickens from USA

2613

Re:major problem
October 20, 2015
The vaquero does NOT have nor do they advertise it as having a "no motion" all metal mode. It's AM mode, including pinpoint, are fast retune all metal modes.
You have to buy the Outlaw or older Bandido to get that.


Max Depth: 10 inches on US quarter
Overall Rating


Durability


Ease of Use


Would you recommend this to a new user? Yes, absolutely!
Walt from US

100

Slimpickens - really
October 14, 2015
Vaquaro is the best machine in is price range period - had them all Whites Garrets Minelabs all the top line (over $1000) still have my Vaquaro and the rest are gone - if you give it one or two stars for durability and ease of use you really know what your talking about - go by an Etrac see if your finds are slim - talk about smoke - you can buy four Vs for the same price.


Max Depth: 12 inches on US quarter
Overall Rating


Durability


Ease of Use


Would you recommend this to a new user? Yes, absolutely!
Buck from Canada

1727



---