Minelab Explorer II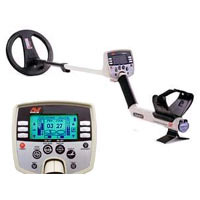 Price:
$1200
Avg. Score:

4.32
Based on
96
reviews
Helpful Tips:
3
Avg. Durability:

4.44
Avg. Ease of use:

4.11


Compare to ▼
Blisstool LTC64X v3 $1000
Whites Spectra VX3 $1200
Minelab Xterra 705 $900
Teknetics T2 Ltd $1250
Minelab Safari $1000
Whites Spectra V3 and V3i $1500


Minelabe best bar none
October 21, 2016
Quite simply why do you think the people in the know always use minelab detectors ask them why they may tell you, and I will tell you now because there are the best and deepest. BY THE WAY IM NOT A DEALER FOR MINELABE OK THANK YOU.


Max Depth: 15 inches on US quarter
Overall Rating


Durability


Ease of Use


Would you recommend this to a new user? Yes, absolutely!
Paul Smith from Sunderland

130

Explorer 2
February 22, 2016
Hi I've only been detecting once in my life, if you don't count my back garden, so m a real novice. But I looked on YouTube and found loads of info and instructions on there. So I went on my first dig in North Beds England on 20/02/16 and with over forty other detectorists There on a fairly small ploughed field and most using the Deus. I thought my chances are pretty slim especially as over forty had gone over the field some months previously.

So I looked at it as a training session. I played with various settings and then decided to run it on full sensitivity and clear all discrim with level 1 on the frequency which gives full 16.6 frequency. I simply followed a guys advice from UTube. It is very noisy and picks up everything but I did as the man said and ignored all the high pitch tones and dug all the low tones. And within minutes I found my first hammered coin on my first ever dig. A James 1 silver penny 1603/4. So I'm hooked on the hobby and my explorer 2.

Yes it's a slit heavy but I'm sure I'll get used to it and I don't care if I'm finding stuff anyway.
Overall Rating


Durability


Ease of Use


Would you recommend this to a new user? Yes, absolutely!
Simon from Milton Keynes England

201

Best depth out there
December 05, 2015
Trust me this detector takes some beating very deep and best by far for the beach and does not loose depth in wet sand I can go right up to the waters edge with no falsing hears what I do, I use conductive sounds sensitivity on full just put an x against nails in settings then when you start you should just have a small bit in the top left and corner blacked out so you don't pick up much metal anything in that blacked out bit is metal so you don't have to dig it. OK well there you have it a great detector trust me on that and very good depth.
Thank you


Max Depth: 14 inches on US quarter
Overall Rating


Durability


Ease of Use


Would you recommend this to a new user? Yes, absolutely!
Steaven 456 from Scarbourough

190

Stunning depth
May 31, 2015
Have previously used the Tesoro Cibola, Teknetics T2, XP ADX 250 and now the Minelab Explorer II. I could say positive things about all the machines I've used before but the Minelab blows them out of the water. Once you train you ears to recognize deep iron for what it is you're away.

I've retrieved small silver love tokens from 12 inches, spindle whorls at 15 inches and a lovely Elizabeth 1st trade weight at 20 inches (OK the trade weight was 8 ounces and 7 cms across so it should give a signal even at that depth). One of my permissions is a paddock the size of 2 tennis courts. I've been over it umpteen times with all the previous machines I've mentioned. A week or so ago I went over it with the Minelab Explorer II and found a Charles 1st rose farthing I (1625-1649), modern gold ring, Roman sestertius (400 AD) and a very unusual lead token that I'm awaiting an ID on.

The sestertius was about 13 inches down and at an angle in the ground. I hunt in All Metal, Sensitivity 30, Ferrous Tones and have a SEF 12x10 coil on board. I hunt on pasture only. Learn the Minelab and you'll find nothing deeper.


Max Depth: 13 inches on US quarter
Overall Rating


Durability


Ease of Use


Would you recommend this to a new user? Yes, absolutely!
Bob Johnson from Essex, UK

241

No deeper than ace350
May 14, 2015
The ace 350 has faster recovery speed and pretty much the same depth. There is a lot of youtube videos of live footage that confirms my status of same results that I have concluded.
If you want to hunt more field in a day then buy a garrett ace350 for 240.00 shipped. If you want to take two weeks that the ace hunted in one week pick the slow go minelab explorer 2.

I have owned many detectors and can say the minelabs are the only detectors that talk like robots at some yard sale with that ignoring flute sound. I seen a minelab etrac on youtube that could not pick out a 7" dime in a depth test.

Minelabs do OK in almost perfect soil but not any better than a bounty hunter 3300 that did just as good as the sovereign elite. Hope this helps someone. HH


Max Depth: 7 inches on US quarter
Overall Rating


Durability


Ease of Use


Would you recommend this to a new user? No, not really.
Rocky Renfro from Bristol TN

743

Best detector hive used
July 31, 2014
Best detector by a mile used a whites dfx and gor rid whithin a week really noisy, and that menny settings it drives you mad setting it up, my minelab 11 this is what I do: sensitivity on full on wet sand right up to the waters edge, no noise at all also in conductive every time, really deep to can be heavy though but I use a bungee harness, but there you go my very honest assessment of the detector thanks.
Overall Rating


Durability


Ease of Use


Would you recommend this to a new user? Yes, absolutely!
David 246 from Yorkshire

275

Explorer 11 best ever
July 25, 2014
Hi there having used loads of detectors in my time including etrac, I'm sure the explorer 11 is by far the best detector out there by a mile, trust me I'm telling the truth, just use a bit of iron mask, also use conductive settings, and you cant go wrong I also used a whites dfx and got rid whithin one week no depth at all very noisy.
Thank you.


Max Depth: 18 inches on US quarter
Overall Rating


Durability


Ease of Use


Would you recommend this to a new user? No, it's too complic
David246 from Yorkshire England

284

Old whites, new explorer se
October 03, 2013
I have been a Whites MXT fan for years. Lots of play grounds, School yards and fresh water beaches. I have found lots of coins, rings, keys and toys.
Got a used SE off ebay and went to three parks that I searched out with my MXT. Went over the same area with the SE and found MORE. Yes I went deeper and found more silver coins. The Whites Family of MDs have been good to me. From the MXT, TDI,and GMZ but I'm finding more in the parks and getting more hits than the MXT. The quality of the MINELAB is way above the Whites. The Whites are easier to use if you want lots of pennies at 5-6 inches. I have found more nickels, dimes quarters and silver with the Explorer SE.

Whites have some great stuff but Minelab has the Quality and Depth for those that are not afraid to learn. You have to learn the Explorer SE.
Great Machine.


Max Depth: 8 inches on US quarter
Overall Rating


Durability


Ease of Use


Would you recommend this to a new user? No, not really.
Ralphe Tylor from Prince George B.c. Canada

173

Explorer 2
July 24, 2013
Read most of the reviews on here about the Explorer 2 and it only uses two at a time not 28 freq as some may think a con really ..
Overall Rating


Durability


Ease of Use


Would you recommend this to a new user? No, not really.
Keith from UK

333

Explorer ii
September 21, 2012
I am new to MDing and only got into it to help someone find some Jewellery. That hunt will be next month, in the interim I've had the minelab for two to three weeks and I've been trying to learn the machine.

First up, this machine is not for newcomers unless you are able to learn and adapt to a lot of new concepts, lingo and configurations. However, if perseverance is in your locker and you're bright enough or technically minded, then by all means you can take on this detector and master it.

The manual is not the most user friendly and could be simpler, but importantly all the information you need is there. I read the manual and watched every youtube video and web article relating to this machine that I could find.

I also bought some patterns so that I could learn proven patterns and so that I would not just be limited to the default discrimination patterns. I now use my own pattern, which is working well on my local beach.

My first few beach trips(2 hours per trip) yielded a lot of junk, ring pulls, etc. By trip 6 I was pulling out coinage to junk at a ratio of about 7:1 using the advanced smart screen and tone audio to decide on whether or not to dig a target. A few short weeks ago that ratio was easily 1:25 in junks favour!

If you are experienced with MDing then you will piuck this machine up a LOT faster and you will get productive a LOT quicker.

There are a few bad points. It's heavy and if you're new to MDing then you'll probably get a sore elbow, like me, after a while. This is down to me gripping the detector too tight though. If you just relax a little then you should be fine. You have to go slower with this machine but it pays off in the end. The number values on the screen can jump around a lot if your sensitivity is not set right or if you're over thrash.. . As a newbie this confused me at first. The learning curve is STEEP, it's not for the faint hearted. But as I said you will master it if you persevere at it.

There are many good points to this detector, it goes deep and after a while you get a good handle on the audio signals. The detector is fully customizable and handles my beach, that has high mineralization, very well. It takes the wet and dry sand in its stride. Last time out when I go to the beach a guy had left his trail in the sand and I thought that it would be pointless to detect, he had covered so much ground. I focused on learning the machine a bit more and I was picking up a coin every 4 or 5 minutes that this guy had missed! For locating the target in the ground The 'pinpointer' on the explorer II is spot on. But once you have dug out the hole/target I'd recommend a probe, I'm using the propointer and it has sped up my recovery rate a lot.

There are a few ways to hunt using either basic or advanced options. Basic means you can select coins/jewelery and start hunting.
Advanced means you can fully customize the discrimination pattern to suit your requirements. Your sensitivity and threshold are key and these can be individually manually set. The detector can also adjust the sensitivity automatically if you so wish.

It's my first detector so I have nothing else to compare it with but overall I'm very happy with it. You will be too.
Overall Rating



Beachsands from Ireland

273



---